The revisions let you track differences between multiple versions of a post.
Revision of World of Warcraft Pro - Gold making Guide from Wed, 2009-09-02 20:45

---
Author's Note
---
This is a collection of all guides on WoW-Pro, which means that I'm not the original author of the guides. I've only collected all the gold making tips we have here on WoW-Pro, added some, updated them, and gived them a pretty design. Poor guides is not included, neither the "complettely outdated" (some from an older expansion, or if the quests you will have to do in the guide has been removed from the game etc., you got the point). Like WoW-Pro got its own leveling guide, WoW-Pro is gonna have its own gold making guide!
So, to sum up what this guide will include:

The early levels

- We will go through level 1-30, the fast methods to make gold during the low-levels.

The Auction House

- The guide will include tips on how to use the auction house, and how to gain use of it.

Gold making at high level

- The guides which gives "the most rewardful" gold utcome, reffered to level 80's.

Add-Ons

- The best addons which is either needed, or just helping you out.

And alot more!
Note that most of the tips is not written by me, I might not answer these as I'm not experienced with them.
---
Table of Contents
---
---
Useful keywords
---
When reading this guide you may run into some words that you don't understand. These words will help you through the guide, or help you understand peoples in-game tips. If there is something you didn't find on the list, check out WoW-Pro's World of Warcraft Dictionary.

AH

- Auction House, a place where we're trading items for money.

Undercutting

- Undercutting happens on the Auction House. People are always trying to beat each others prices (cheaper), when many people are doing that, the prices become cheaper.

Dailies

- Daily Quests, I kind of quest which you can repeat everyday. Oftenly a quest which is not included in any quest chain, or a quest that needs to be unlocked.

WTS

- Want to sell, usually used in trade channels, when people are trying to sell something.

WTB

- Want to buy, usually used in trade channels, when people are trying to sell something.

LW

- Leatherworker, a crafting profession skill.

BS

- Blacksmith, a crafting profession skill.

ENCH

- Enchanting, a profession skill.

DE

- Disenchanting, good items can be 'disenchanted' into several kind of dust (which can be used in Enchanting).
---
The Basics
---
Before you even start reading this guide, ask your self, do I want to spend time on getting money? The guide will show you the fast ways, but time is still needed. If the answer is yes, we can go to the next step.
Choosing Professions:
Professions is one of the most important things while making money. You can only have two professions, so you have to choose wisely. There is two kinds of professions. The first one is gathering professions, the second is crafting professions. You must have atleast one gathering profession, the gathring profession makes a benefit difference of the outcome if you wanna make money. Your second profession can be a crafting profession if you like to (some may want to create their gear in level 80), but a second gathering profession is pretty nice to have.

Gathering Professions




Skinning

- Skinning allows players to gather leather and hides by skinning animals. Leather and hides are used for leatherworking. Leather is also used for some blacksmithing, engineering, and tailoring recipes. For skinning you will be needing a skinning knife, which can be bought from a merchant who sell profession-related items.

Mining

- Mining is used to extract ores, stones, and gems from mineral nodes found throughout the world. Generally, more of these nodes can be found in the underground than on the surface. In addition to gathering the raw materials, it's up to the miners to smelt the ores taken from the ground into metal bars. These are the raw materials that artisans such as Blacksmiths and Engineers is using. For mining you will be needing a Mining Pick which can be bought from a merchant who sell profession-related items.

Herbalism

- With Herbalism you can gather herbs and plant all over the world. Herbalism is an almost necessary requirement for Alchemy. Alchemy is a great skill that allows you to generate all sorts of instant and temporary potions to improve a character's effectiveness.

Crafting Professions


Blacksmithing

- Blacksmiths take bars of metal from miners and work them into finely crafted arms and armor. There are many unique weapons and other armaments that cannot be found on any of the vendors or monsters in the game, but can only be created by blacksmiths. Blacksmiths can create weapons, mail and plate armor for Paladins or Warriors, and trade items. Blacksmiths can construct special sharpening stones that can be used to temporarily improve weapon damage. They can also create several items that are used as ingredients for other Professions recipes, such as Enchanting. Blacksmiths can also create a few items that are needed for quests. They can put these items in the auction house to generate additional income. Blacksmithing is great for Paladins or Warriors, who can use the skill to create their own equipment. It is also good for making money by selling weapons and armor to the classes that can use them.

Leatherworking

- Leatherworking is a crafting profession that goes hand-in-hand with the gathering profession of Skinning. As a leatherworker, you will create leather and mail armor out of the skins and hides. You can also create armor kits, which are single-use items that give a permanent armor or statistic boost to any type of hand, leg, chest, and foot armor. At high levels, leatherworkers can create epic quality armor, some of which can only be created by a leatherworker of a particular specialization.

Tailoring

- Tailoring allows players to cut and weave various pieces of cloth into armor, bags, shirts, and other cloth items. Tailors can create cloth items for cloth wearing classes: Mages, Warlocks, and Priests. Tailors play an especially important role in guilds because they can create bags for the entire guild. They can also create specialty bags such as Herbalism bags that can increase gathering for the guild. They can learn powerful rare recipes as the highest levels which allow them to create powerful gear useful in raiding. Tailors can create shirts or dress-up items. Tailors do not require any special equipment to create their items, such as blacksmiths require anvils. Tailors can create items wherever they want, as long as they have the proper required ingredients. Tailoring does not require a gathering profession. Proper ingredients must be gathered from monsters or purchased from other players. If your friends know you're a tailor they also may collect tailoring ingredients for you, provided you let them know exactly what you need.

Inscription

- the Inscription profession allows its practitioners, called "scribes," to enhance the spells and abilities of players' characters, such as enhancing a rogue's Backstab ability to deal more damage to stunned targets, or allowing a priest's Circle of Healing to heal one more target. Scribes can also aid enchanters by permitting them to sell their enchantments directly on the Auction House, or help other characters by creating enhancing scrolls like Scroll of Strength.

Engineering

- Engineering is a very fun and creative Profession. You can create all kinds of wacky things that are fun to use and also entertain and amaze other players. Engineering is used to assemble metal and stones into parts needed to make explosives, guns, scopes, bullets, mechanical dragons, aquatic helmets, and much more. More than any other Profession, engineering products require several steps to be completed. Most items created by engineers can only be used by engineers. You can sometimes create something you can sell to another engineer. Many engineering recipes require a lot of different parts before the item can be created. This will require more space in your bags than other Professions.

Enchanting

- Enchanters use their magical formulae to grant permanent augmentations to weapons, armor and other equipment. Enchanting requires the use of special ingredients that can only be gathered by disenchanting magical items. Using these ingredients, enchanters can make items more powerful. With the right methods, enchanting can produce a big amount. Enchanting is an advanced skill.

Alchemy

- The Alchemist mixes herbs in order to generate potions with a variety of effects. A player can create healing, invisibility, elemental resistance, and mana potions; oils to coat weapons; and much more.
You have to choose one gathering, and one random. You've maybe noticed that some professions has good combinations. To gain most gold, Mining and Skinning, or Herbalism and Skinning is the best combination in my opinion, but it's is up to you. Things you should not choose: Engineering, or Inscription. These two professions is useful in other ways, but do not belong to gold making.
Beside the two main professions, you're able to have all the Secondary Professions too! which you should make sure to have.
Secondary Professions




Cooking

- As you're traveling around the world, you'll notice that you often receive pieces of meat, which, instead of being sold to merchants, could be used to create food. If you're a player that relies on food, such as a non-healing player or a player that solos, food should become very important to you. You can buy food from merchants, but the food gained through cooking is nearly free and it is actually much more effective.

Fishing

- As a secondary skill, fishing occupies its own unique space in World of Warcraft. Although it is essentially a gathering skill akin to skinning, herbalism, or mining, the mechanics of the skill make it almost like a mini-game. Just like the real-life equivalent, to become a master fisherman you'll have to spend considerable time standing next to bodies of water while holding a fishing pole. Catching a fish will be a test of your reaction time, as you have to right-click the bobber immediately after you see it dip into the water indicating you've caught something. Along with the requisite marine life such as fish, eels, and squid, you also might haul up some odds and ends from time to time - including even valuable items, some of which may only be caught by fishing. The fish you catch can be eaten on their own to regain health, or they can be used in cooking recipes. The cooked fish will often provide useful effects when eaten. You will be needing a Fishing Pole which can be bought from a merchant who sells Profession-related items.

Archaeology (supposted to be added in patch 4.0)

- Archaeology is the new secondary profession that will be joining the ranks of cooking, fishing, and first aid in World of Warcraft: Cataclysm. Archaeology allows the player to unlock new abilities and rewards by discovering ancient treasures throughout the world. Each archaeologist uses the profession to uncover clues hidden in the world around them, such as troll relics or map fragments, and decipher their meaning, enabling the clever archaeologist to manipulate pieces of the past, learning the location of a treasure cache or valuable artifact. Such artifacts are highly sought after by the Archaeology Society, and they pay in gold and items for their return. Those who have mastered archaeology can find Titan artifacts, earning special currency used to unlock character paths and allowing the player to further customize their character.
---
General Tips
---
Bags


Probably the most important thing you need to do to make money, is get big bags. I recommend you get big bags as soon as you can afford too. I usually start off with 12 slot bags. They are usually reasonably priced on most servers and will serve you well until you can move up to bigger sizes. Being able to hold more will improve your ability to make money because you won't have to pass up on things because your bags are full and increase efficiency since you won't have to run to town all the time to empty them back out.

Always sell Grey/white stuff and Junk at the Vendor


In general, do never forget to loot grey, or white items from dead mobs. These are actually much worth especially in the high levels, at the merchant. When I levelled my Death Knight from 70-80, I think 800/4000 gold came from white and grey items.

Create a Banker


A banker is a character that is selling all your stuff at the Auction House. If you don't already have one, make a new character and run to a capital city. When you have been gathering all of your skins or nodes, send them to the banker and log on daily selling them on the Auction House.

Find Limited Recipes


Most recipes can be bought from a specific vendor, however some can only be bought once or maybe twice from a vendor in a certain time frame. The recipes that have limited availability and have a vendor who may not be easy to get to will usually sell very well.

Neutral Auction Houses


Keep you eye out for factional type stuff that can be sold over the neutral AH for a decent profit. Recipes, pets, items, and more can all be sold for gold if you have the patience.

Disenchant Green Gear


If you're enchanter, go for disenchanting all green colored gear if the price is worth it (sometimes the items sells better at the vendor than the dust does on Auction House, depending on your server economy).

Be careful when you're posting on Auction House


Be care ful about what you're selling, when you reach the levels between 60-80 and are trying to sell rarely droppped Epics or Rares, you will mostly pay 10-30g fee just to set up the Auction on the Auction House.

Try sell in the Trade Channel


If you got some Epic or Rare items which is expensive to post on the Auction House, try yelling in the Trade channel (/2): 'WTS "item" cheap /whisper me offers!' or something simulair to that, just everytime you're in a capital city.

---
The Auction House Basics
---
The Auction House is a place where players can trade things between each other, or sell almost every kind of stuff that you like to. It's very important to understand the Auction House, so you can gain use of it. Everything we are farming such as herbs, skins, ores etc. are we going to sell on the Auction House, however it sounds strange that people are willing to buy it from high prices, it's true, I gurantee you.
How do you use the Auction House?
The Auction House can be found in every racial capital city, NOT in Dalaran or Shatrath City. If you can't find it, ask a guard that will give you a waypoint to where it is. The Auction House got three different options:

Browse


"Browse", is the place where all the Auctions that other players has made is. You can either search at the search option, or if you're searching for something specific (like two-hand axes), in the column to the left. If you want buy something, you can either bid, or buyout. If you buyout, you will get the item directly in a mail (in the mailbox).

Bids




"Bids" is the place where you can view your own bids on other players Auctions. If you've bid on a item, you can see in the bed window how long time there is before the Auction runs out. If you were the highest, you will recive the item in a mail.

Auctions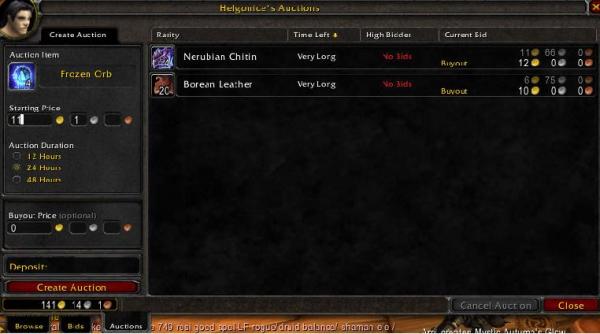 "Auctions" is the place where you view your own Auctions. The box on the left side allow you to create the Auction, drag your item into the little item box, and then write a bed price, and a buyout price. You can also see if anyone has bid on your Auctions or how long time they stay on the Auction House, before the time runs out and you get the Auction back in a mail.

==NOTE==You will need to pay a fee to set an Auction up. If someone buy aout one of your Auctions, you will get a mail with the money the played payed.
---
---