The revisions let you track differences between multiple versions of a post.
Revision of Jame's Addon from Tue, 2008-12-30 13:27

Hey there,
I'm currently working on an Addon for Jame's (and maybe other) Guides so I thougtht I make up a thread to get some feedback and construcitve critic
Well this is what it looks like at the moment: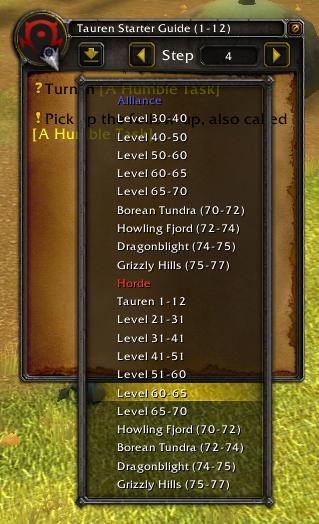 What it does at the moment:
it displays the steps
can display little icons in the text
The Horde Symbol in the topleft ring changes to an Alliance-Symbol if you're following an Alliance gudie
allows a keybinding for the

next step

dropdown-list for choosing a guide
saves the last guide and step on logout and reloads it on login
everey step

can

have a coordinate. the little compass needle shows where to go (TomTom-like)
And what I want to add:
make the "compass-arrow" change to green or something if you're on the right way
something that shows the arrival at the coordinates. Maybe a green glow in the ring or something like that
Show Player/Traget Coordinates and distance to the target.
jump to a specific step by entering a number in the Step-editbox at the top.
If you have some ideas please tell me
Jahwo