The revisions let you track differences between multiple versions of a post.
Revision of How do you plan your leveling guide? from Thu, 2009-01-22 00:44
This thread is mostly intended for those who write or are interested in writing leveling guides. Since I'm pretty new to the field and have only written two guides so far (with my third one under construction) I would like to pick up as many tips and tricks as I can (and as you have to share) to smooth out the guide writing progress.
This is my current system:
1: I decide which guide to write. For example, a guide through Teldrassil. I have since earlier played through the zone at least once (in Teldrassil's case, that would be at least 8-10).
2: I open wowhead and type in the zone name, click on quests and do the dull work: the planning before the first test: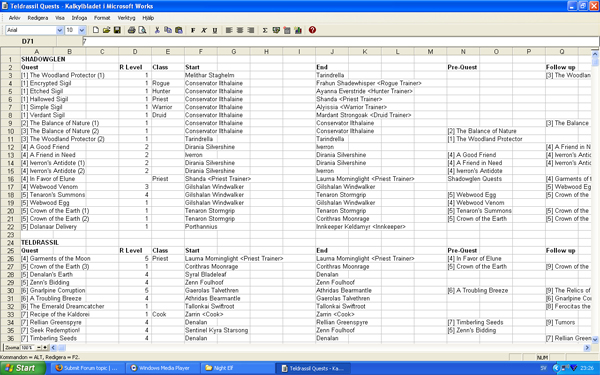 Through wowhead I figure out every quest in the zone, their level (and other requirements), their starting NPC and ending NPC as well as if there are pre-quests and follow ups. I type everything down in a Works document. I sort the quests by level so I can easily find the first suggestive orders to do them in.
3: I take a paper and a pencil and make a rough drawing of the map, pick a number of early quests and mark on the paper where on the map they and their respect NPC:s are. By doing this, I have an early idea of which quests to add to what circuit and in what order to do circuits to prepare the follow ups for upcoming ones.
4: When I have decided on an order, I write them down in a basic draft of the guide (no pictures and no maps yet).
5: I log in to WoW and run the early draft on a test char. As I do this, I take some pictures and take notes of what I find out along the way (from boss fights or the XP rate for example). If the circuit works, I move on to the next one.
6: When I have a clear understanding of the most efficient circuits, I go ahead and make maps and do the basic layout of the actual complete guide.
7: I swap around the order of circuits depending on what I want the player to have accomplished at certain parts of the guide. Sometimes I might have to move a circuit I tested at early level to a later level (which seems more inefficient on the paper drafts) just because I figure out during testing that the character should wait a level or two before attempting it (or by figuring out more efficient combinations of circuits).
8: If I'm unsure of the pacing or efficiency of some circuits, I run another test char through it to take the remaining pictures, get the remaining information needed and telling myself that this is finally the most efficient circuit. I'm careful to do this with an opposite class of the first test char (caster -> melee, for example) so I know how different classes respond to the same circuits and boss fights.
That's pretty much all there is to my system of creating a leveling guide. Now I want to know what you do that I can learn off to make my system go smoother so that I can increase my productivity and create great guides without the need of leveling endless test chars. What are your suggestions? What is your system? What have you figured out works the best? What have you figured out works the worst?