The revisions let you track differences between multiple versions of a post.
Revision of [WoW-Pro Rivals] WoW-Pro Guild on Urban Rivals from Thu, 2009-01-29 00:34

As you all probably noticed, there's a

logo on the top menu bar.
The owners of Urban Rivals recently contacted me and offered to sponsor my site, in exchange for a direct link to their game, which is great because anyway, I had already played the game before and I liked it. And wow-pro could definitely use some sponsoring, it will help us finance new features for the site and gifts for future competitions.
So I decided to start playing it again casually and to create a WoW-Pro Guild there. It's a nice break from wow sometimes
---
What is Urban Rivals?
It's a very simple, yet difficult to master FREE online card game. There's a lot of strategy in it, but the most fun part is to actually level up your characters and to buy new, more powerful ones, and of course to climb up the rankings
A deck must contain a minimum of 8 characters. Here's how my deck looks like at the moment (I'm only level 10, so it's nothing special of course):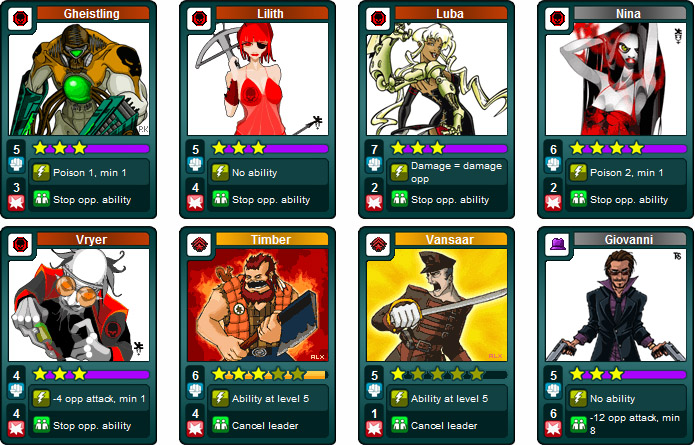 My favorite out of this bunch is Nina. I got her with the starter pack I got when registering an account. She was pretty week at Level 1, only had 3 attack power and was doing only 1 Damage: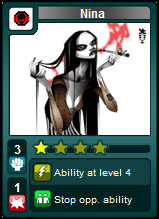 But now that I leveled her up to Level 4 (max level for her), she's got 6 Power and 2 damage. But the best part is that she also has the Poison 2 ability.
Which means that if I use her first in a battle, and that she wins the round, she will inflict 2 damage, plus 2 extra poison damage every turn after this one. Which is great.
Right now though, my main focus is to get Timber to Level 5. At level 5, not only is he a powerhouse on his own (6 Power / 6 Damage), but he also gives +1 Damage to all your cards, which is huge.
Anyway, the combat system is rather easy, and there's a cool tutorial at the start, so I won't dwell on that. However I do have a few tips:
---
Tips
Read the opponent's cards abilities before you choose who you are gonna defend with. Some of your cards match up great against certain abilities. Like for example,

Nina

has an attribute called "

Stop opp. Ability

". Which is great to use against cards with ablities like for example "

-2 opp. power

".
If you want to win more often, keep your deck down to 8 cards. Remove the lower quality cards from your deck and only keep the best cards you have.
Don't spend your "

Clintz

" (the game's currency) on low quality cards. Be patient, save up until you can afford an uncommon card at least. Cards are split in 3 different categories: Rare, Uncommon and Common. But don't be mistaken, there are some pretty good commons, and some bad Uncommons. While browsing the market, read the card's descriptions and the comments under them, there's usually some really useful information. For example, the first card I bought was

Luba

:

She cost me 225 Clintz but was more than worth it. 7 Power is great and her ability makes your oponent think twice before they attack you with one of their high damage characters (because she can "copy" their damage and if she wins the fight, she will inflict that damage to the opponent).

If you manage to beat your oponent by KO, you get extra

points

(for the ladder rankings) and extra

Clintz

. To beat an opponent by KO, you must reduce his life points down to zero before the end of the battle (which is 4 rounds). So try to achieve that, but don't take too many risks. It's best sometimes to play safe and just win without a KO. All you have to do is have more life than your opponent at the end of the fight.

If you win a lot and are smart about your choices, you'll end being able to afford some of the really strong cards, like for example Kenny:

He doesn't look like much at Level 1. But at Level 4 he is a 6 Power/3 Damage, which is already quite good, but the best part is that the ability he unlocks at level 3 is a Lifedrain x2. That means if he wins the battle and inflicts his 3 Damage, he will actually heal you for 6 Life Points!

The fact that he also nullifies opponent abilities is just icing on the cake. But this badass Harry Potter costs about 15,000 Clintz. So good luck getting there

Get to

Level 5

ASAP. At level 5 you get rewarded with

Timber

. A free rare card, with great stats once you level him up (as I said earlier). And then there's more rewards every 5 levels
---
Conclusion
There are a lot of other intricacies to this game, many cards have nice synergies with other cards, and there are a lot of strategies in battle, like bluffing, but this post is already long enough for today, and anyway, I'm still a novice there!
So if you feel like joining me there, click on the Urban Rivals logo, create your account and add me as a friend.

My nickname on Urban Rivals is: Jyren
The WoW-Pro Rivals guild is already created. To join it, simply search for my profile in game. (Community > Search > Jyren)
Then once you're in my profile, you'll see the [WoW-Pro Rivals] guild there. Click the link to it, you'll be taken to our guild's page. Once there, click on the Apply to [WoW-Pro Rivals] link.
==Note== You need to be Level 5 before you can apply to a guild
Not only will you indirectly support wow-pro by doing so, but you'll also have some fun