The revisions let you track differences between multiple versions of a post.
Revision of Shinke's Tauren (1 - 12) Guide from Tue, 2009-02-03 23:57

Introduction
I was not sure what I wanted to put here, so my introduction is based onJame's leveling guide introduction.
This guide is made for FAST leveling through the use of Optimized Quest Circuits. With this guide, questing will be very efficient and you'll not waste any second running around and trying to figure out in which order to do your quests. Follow each instruction carefully and you will see for yourself. The quest choices and order to do them are optimal so that you run as few as possible while doing the most possible, turning several quests at the same time. It will be like grinding, because you'll be killing stuff almost non-stop, besides you'll also be completing a bunch of quests at the same time!
Everything described in this guide can be done solo (beside when I say otherwise). You can, of course, follow this guide while duoing, grouping, it's not a problem, it works too.
DISCLAIMER: This guide does NOT take into account tradeskills, class specific quests or PvP. It's 100% focused on getting the most experience possible in the shortest possible time while doing a lot of quests and enjoying as much content as possible. Any race/class combination can do this guide. Any complaints about PvP, tradeskills, or class specific issues will be ignored.
---
Basic Rules
Spend your talent points so that you kill things as fast as possible.

(e.g: Priest should specialize in Shadow Talents, Warriors in Arms/Fury, etc.

Don't waste your time trying to find groups for questing

, you can solo everything that is described in this guide unless I say otherwise. Only group with someone when it's not gonna be a waste of time (e.g: meeting the person at the other end of the zone to show him the way to where your quest is, that is a waste of time)
Try to always

log out in an inn or in one of the major cities

when you take a break.
When I say you should make an inn your new home location, it's for a good reason, and it will save you much time.
---
Useful Addons
To get the most out of my guide, you should get an addon which displays coordinates, because I use them to describe locations in my guide (x,y). You can use any addon you like, but here's a very simple one I use.

Recommended
DMiniCoords

- A simple box which displays coordinates, left-click it to move it where you like.
Optional
Below is a list of other addons Jame uses, this is 100% optional though, it's mostly for people who are curious to know which addons Jame uses:
Bartender4

- A great action bar addon.

X-Perl UnitFrames

- Very nice, highly customizable unit frames.

Quartz

- The best casting bar addon out there, imo.

Scrolling Combat Text

- I just don't like the default UI Floating Combat Text.
Side Note: In case you don't know how to install add-ons, simply download an addon from one of the links above and unzip it. Then drag the unziped folder in your Addon folder (full path is c:\\Program Files\\World of Warcraft\\Interface\\Addons). Then, restart World of Warcraft and it should be working.
If it isn't working, you might need to log out to your character selection screen and click on "Addons" in the lower-left corner. Tick the box that says "Load out of date Addons". Re-launch WoW.
---
Color Code
Quests

Items

Locations

Quest Objectives to kill

NPCs

Locs
---
The Guide
---

Level 1 - 6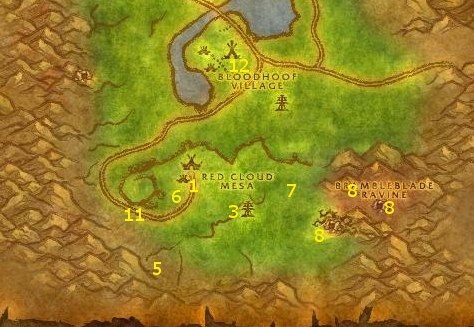 Talk to

Grull Hawkwing

(

44,77

).

Accept The Hunt Begins and then go southeast of the area.

Kill Plainstriders until you loot 7 Plainstrider Feathers and 7 Plainstrider Meat.

Run back, turn it in, and accept:


The Hunt Continues

Class Quest

Talk to your

Class Trainer

and turn in your quest.

Talk to Chief Hawkwind and accept A Humble Task.

Go to (

50,81

) and turn it in at

Greatmother Hawkwind

.

Accept A Humble Task (part 2).

Click the Water Pitcher on the fountain.
Run back and turn it in.

Accept Rites of the Earthmother.

Grind to level 3 on

Plainstriders.

Accept Break Sharptusk! back in camp.

Sell junk and repair.

Go south to (

44.88

).

Kill Mountain Cougars until you loot 10 Mountain Cougar Pelts.

Run to (42,92) and talk to Seer Graytongue.

Turn in Rites of the Earthmother and accept Rite of Strength.

Grind mobs until you hit level 4.

Head back to Camp Narache to Chief Hawkwind (44,77)
Turn in The Hunt Continues and accept The Battleboars.

Sell junk, repair, get skills.

(

53.81

) Kill

Battleboars

until you have

8 Flanks

and

8 Snouts

.
Go to (

58,85

) and kill

Quilboars

on your way to the tent at (

64,77

).

Kill Sharptusk. Loot him.

Run to the cave at (63,82) and on the inside is a Dirt-stained Map. Right-click it to accept Attack on Camp Narache.

Hearthstone. Turn in all quests. Accept

Rites of the Earthmother (Part 2).

You should be level 5 or close to it now.

Sell junk / repair.

Go to (

38,81

) and speak to

Antur Fallow

. Accept

A Task Unfinished

.

Follow the road to Bloodhoof Village.

Talk to

Innkeeper Kauth

. Turn in

A Task Unfinished

.

Make Bloodhoof Village your home. Sell junk and repair.