The revisions let you track differences between multiple versions of a post.
Revision of WoW Millionaire: Farming in Icecrown/Sholazar from Fri, 2009-10-30 19:58

Today's topic will be rewarding for Herbers ands Miners. Selling ores and herbs is one of those things that makes you very much gold in World of Warcraft, in other words: Farming. Farming is by far the most simple and easist strategy that exists, it can be done by everybody with a high level gathering professions. So for this topic, I'll give you the routes that I found most optimized to follow in Icecrown and Sholazar Basin.
Sholazar Basin
Sholazar Basin in the heart of all gathering professions. There is Adder's Tongue almost everywhere, and also a pretty amount of Saronite Deposits and Titanium. Therefore, you will also run into a lot of other farmers. I suggest you take on your PvP gear (if any) before starting your routes. Pros of Sholazar:
Lot's of Herbs and Nodes.
Easy beatable mobs.
Cons of Sholazar
A lot of other farmers.
Adder's Tongue / Tiger's Lily sells low on most server due to a lot of farmers in Sholazar.
You can be unlucky and run into hackers aswell.
Herbalism Route: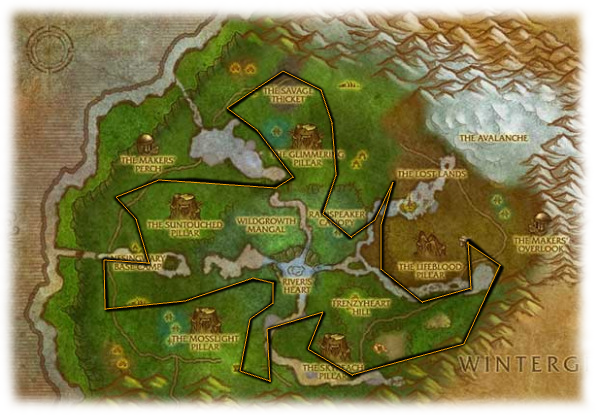 Mining Route