The revisions let you track differences between multiple versions of a post.
Revision of Daxinator's Alliance Leveling Guide - Sholozar Basin (78 - 79) from Tue, 2010-06-29 02:28

Sholozar Basin to The Storm Peaks
Well, here's my first guide, so if you have any corrections you can give me would be nice! I will be writing the Sholozar Basin, Storm Peaks, and Icecrown guides for you to use to level your characters as FAST as possible to level 80!
I don't have the addon DMiniCoords, but I will look up locations and NPCs', etc. using wowhead.com, I will put down the coords down on the guide for you to find the objectives or whatever.
Let's get down to the rules!
---
Rules
1. Log out in a city or an inn, so your bars are blue, for rested XP bonus!
2. When I say look for a group for a certain quest, then look for a group, at most times you might be able to solo some group quests so its ok!
3. Its ok if your like already level 80 following this guide, as you could just level for reputation.
4. I will NOT be doing PvP or Class quests in this guide so don't message me about how I didnt add PvP or any class quests.
---
Color Codes



Quests



Items




Locations



Quest objectives to kill



NPCs



Coordinates


---
Level 78
---
1. You should be the city of Dalaran,look for Archmage Pentarus(69.5, 43.1) and take his quest Where in the World is Hemet Nesingwary?.
When your ready talk to Archmage Pentarus again, and choose the only option available. Just watch the little dialog while your flying and then you'll eventually end up in Wildgrowth Mangalwhich is in Sholozar Basin.
2. Go to the ? minimap and turn in Where in the World is Hemet Nesingwary? at Monte Muzzleshot. Take his follow up Welcome to Sholozar Basin.
3. Go to northwest Nesingwary Base Camp.
Turn in Welcome to Sholozar Basin to Hemet Nesingwary.
Get the following quests:
It Could Be Anywhere!
Venture Co. Misadventure
Need an Engine, Take an Engine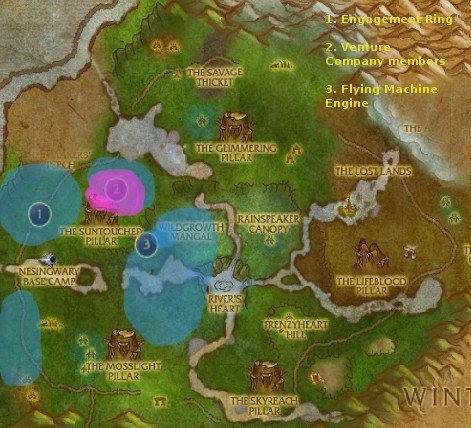 1. Go to where the light blue transparent areas are and kill various creatures until one drop the Golden Engagement Ring.
2. Once done with the first objective go to where the pink transparent area is at (36.7, 49.9) where you'll find Venture Co. members kill 15 of them.
3.