The revisions let you track differences between multiple versions of a post.
Revision of Daxinator's Alliance Leveling Guide - Sholazar Basin (78 - 79) from Tue, 2010-06-29 22:37

Sholazar Basin to The Storm Peaks
Well, here's my first guide, so if you have any corrections you can give me would be nice! I will be writing the Sholazar Basin, Storm Peaks, and Icecrown guides for you to use to level your characters as FAST as possible to level 80!
I don't have the addon DMiniCoords, but I will look up locations and NPCs', etc. using wowhead.com, I will put down the coords down on the guide for you to find the objectives or whatever.
Let's get down to the rules!
---
Rules
1. Log out in a city or an inn, so your bars are blue, for rested XP bonus!
2. When I say look for a group for a certain quest, then look for a group, at most times you might be able to solo some group quests so its ok!
3. Its ok if your like already level 80 following this guide, as you could just level for reputation.
4. I will NOT be doing PvP or Class quests in this guide so don't message me about how I didn't add PvP or any class quests.
---
Color Codes



Quests



Items




Locations



Quest objectives to kill



NPCs



Coordinates


---
Level 78
---
1. You should be the city of Dalaran,look for Archmage Pentarus(69.5, 43.1) and take his quest Where in the World is Hemet Nesingwary?.
When your ready talk to Archmage Pentarus again, and choose the only option available. Just watch the little dialog while your flying and then you'll eventually end up in Wildgrowth Mangalwhich is in Sholazar Basin.
2. Go to the ? minimap and turn in Where in the World is Hemet Nesingwary? at Monte Muzzleshot. Take his follow up Welcome to Sholazar Basin.
3. Go to northwest Nesingwary Base Camp.
Turn in Welcome to Sholazar Basin to Hemet Nesingwary.
Get the following quests:
It Could Be Anywhere!
Venture Co. Misadventure
Need an Engine, Take an Engine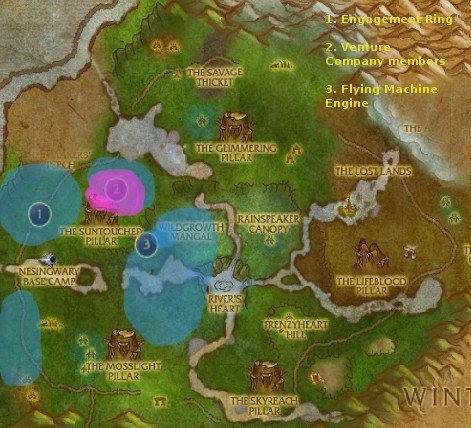 1. Go to where the light blue transparent areas are and kill various creatures until one drop the Golden Engagement Ring.
2. Once done with the first objective go to where the pink transparent area is at (36.7, 49.9) where you'll find Venture Co. members kill 15 of them.
2 1/2. You should see a quest on your minimap. Take it, Engineering a Disasterfrom Engineer Helice(35.6, 47.3). The escort quest will start, escort her to the end of the mining thing and you'll get the quest credit.
3. Now let's move on, were going back to the location where we came in the flying machine, back to Wildgrowth Mangal, you'll find the Flying Machine Engine at (38.6, 56.7). Loot it!
Return back to Nesingwary Base Camp, and turn in the following quests:
It Could Be Anywhere!
Venture Co. Misadventure, get the followup Wipe That Grin Off His Face
Need an Engine, Take an Engine, get the followup
Have a Part, Give a Part

And also turn in, Engineering a Disaster to Hemet Nesingwary.
While your still at the camp, talk to Purser Boulian to bind your Hearthstone here. As well repair/sell/restock food/drink.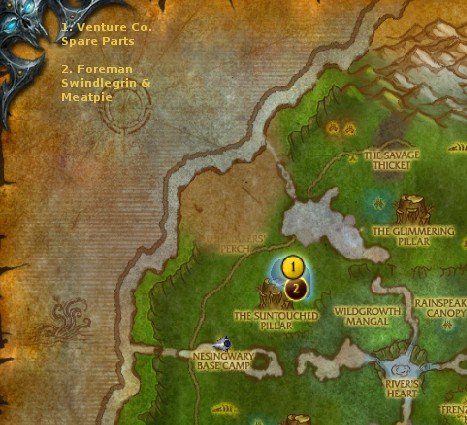 1. Go back to Swindlegrin's Dig and pick any Venture Co. Spare Parts until you have 7 of them.
2. Foreman Swindlegrin & Meatpie are always walking around the dig.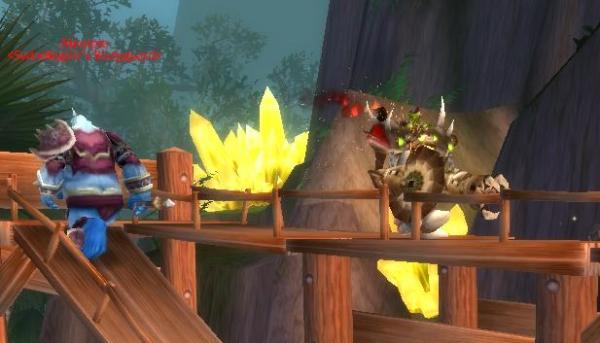 Once done, return the camp and turn in:
Have a Part, Give a Part now you should see a yellow "!" appear upon Professor Calvert head, get her quest Aerial Surveillance.
Also, you will see a "!" appear where Spirit of Gnomergan, get the Flight Path.
Turn in: Wipe That Grin Off His Faceto Debaar.
Now you've unlocked more quests, get all of them!
Kick, What Kick? from Drostan,
Rhino Mastery: The Test from Hemet Nesingwary, Dreadsaber Mastery: Becoming A Predator from Buck Cantwell.
Sell any items you dont want, check mail, etc.
No map needed for the first objective!
1.

Find RJR Rifle in your bags and right click it.