The revisions let you track differences between multiple versions of a post.
Revision of WoW-Pro Addon from Fri, 2010-08-20 13:54

WoW-Pro is pleased to present it's brand new, custom coded addon! In the future this addon will be able to bring all of our awesome guides into the game, but for now it is only compatible with leveling guides.
The addon is designed to provide easy, streamlined questing and leveling in a completely customizable package.
More details about the new addon and awesome screenshots after the break.
Download
You can download our addon from:

REQUIRED Addons
The WoW-Pro addon currently REQUIRES TomTom (download here) or Carbonite in order to work properly.
Features
Automatic detection of objective completion:

Detect quest accept, completion and turn-in
Detect travel (in any form)
Detection of flight point discovery
Detection of Hearth point change
Conditionals based on player's class, race, completed quests, and item possession
Completely customizable frame:

Size can be changed to display many steps or only one
Step explanations can be displayed always or only show on hover over
Text can be customized: font, color, and size can be changed
Spacing and padding of the guide window can be customized.
Border and background texture can be changed or removed
Background color can be changed
Titlebar displaying zone and progress can be removed
Other awesome features:

Integrated quest tracker (can be disabled if desired)
Integrated quest item buttons
Easily accessed view of entire guide
Sortable guide lists
Automatic mapping of coordinates with TomTom or Carbonite
LDB quick open/close button
Profile management for display settings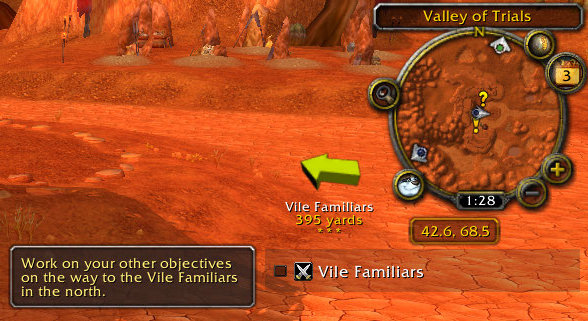 Minimalist View w/ Mouse-over Notes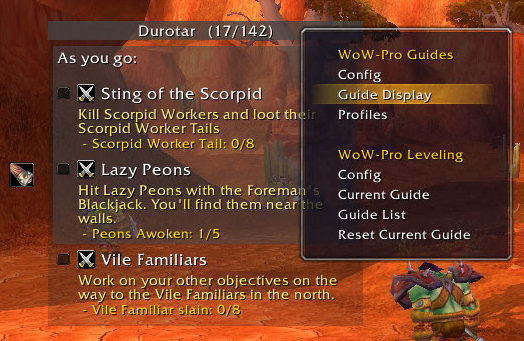 Dropdown Menu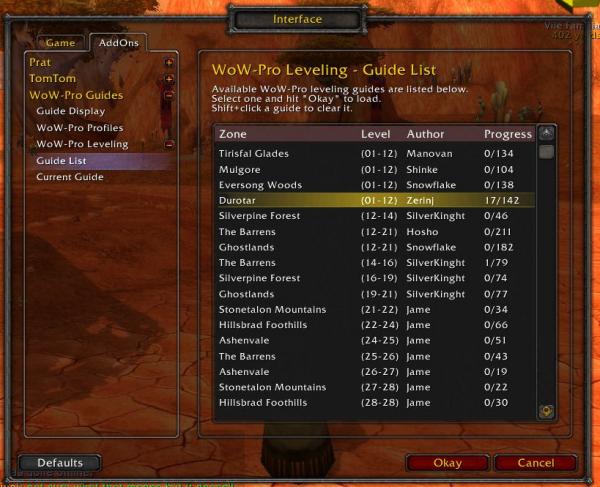 Sort-able Guide List
Current Version: 1.1.0 - Release
NOTE: This addon is still in a heavy development stage. It is recommended that you delete the WoWPro.lua file in your WTF folder when upgrading to the new version. However, this will result in the loss of manually checked off guide progress and display settings.
New Features
Improved resize customization and logic
Guides can be named with parentheses or dashes to improve ease of recognition. Example: Terokkar Forest – Scryer
Titlebar and "As you go:" text can now be customized
Font is now previewed within the font selection menu
Option to always load next guide on guide completion
Ability to set the anchor point for the guide window
Ability to make coordinates visible in note text
About/Help sections
Auto-fetch POI coordinates and Use items from Blizzard!
Localizations for zone names
New right-click menu for steps! Your can:

Share quest
Re-map coordinates
Make a step sticky (save for later!)
Un-sticky a sticky quest
Bug Fixes:
Many guide-specific bug fixes
Guide frame will now correctly remain anchored after logout
Waypoints will now update correctly in combat
Quests with no objectives should no longer cause an error message
Death Knight guide should now be chosen automatically when logging in with a new Death Knight.
The Nil Guide (no guide loaded) should no longer cause errors
Repeatable looting steps (such as those in Hellfire Peninsula's demon gates quest) should work as intended now
Loot tags should now behave correctly (apparently when WoW tells you that you've received loot, you actually HAVEN'T. Awesome.)
No more errors if no QID is provided in a step
Improvement in handling of optional steps:

Optional steps with loot requirements no longer complete incorrectly
Steps marked optional with no loot or |PRE| tag will show up IF you have that quest in your log
Optional steps now have a "(optional)" after their name in the current guide window.
How To Help:
If you'd like to help code, update, or test guide files, head over to our How To Contribute page on gitthub!
Though this addon is now in it's release stage, it's still new. There may be bugs. The best place to report them is on github, but I will respond here as often as I can. Thanks!
Possible Future Features:

Need to add support for listing certain steps as dependent on multiple quests being completed to be checked off (steps to go to a questing hub, for example)
Animation for checking off steps (a check mark appears, old quest fades out, other quests move up).
Either integration of the arrow, or permission from TomTom's author to redistribute their addon, maintaining the author's name and the addon's original name (basically leaving the addon untouched).
Support for area vs. patrol vs. player run path type coordinates.
Support for step skipping (not the same as manual completion) - the guide knows you did NOT complete the quest and will not ask you to complete quests with follow ups. Perhaps has a confirmation message stating "Skipping this step will result in skipping X follow-up steps". Need to add support for quest dependencies for this to work.
Auto-load a guide based on level
A separate "shopping list" frame which can be opened with a button on the title bar, used for a couple things in the leveling guide but which will get the most use for profession guides.
Improved logic/display for multi-objective steps. Not exactly sure how this would work, but perhaps have "substeps" which are displayed together, and checked off as they are completed.
An optional target button, which allows you to target a named mob and places a raid icon above it's head. This will help locate wandering mobs. Ex: |T|Bjomolf| would find the wolf Bjomolf if he is in range, target him, and place a skull above his head so he can be easily located.
Possible Future Modules:
WoW-Pro Talents

- Easy talent recommendations while leveling, for all specs. Possibly include rotation suggestions as well. For players jumping in partway through, it should be able to detect their current talent changes and adjust accordingly, or recommend a respec if the talents are too messed up. Talents should be prioritized to make sure people pick up the most vital ones. Recommendations of glyphs would also be nice.

WoW-Pro Dungeons

- Guides to dungeons. Easy access while leveling, recommended dungeons for your level and gear. Include gear lists, etc. Step by step guides, preferably with pictures, includes boss kill strategies.

WoW-Pro Gold Making

- Daily quests, gathering/farming circuits, perhaps even auctioneer advice.

WoW-Pro Reputation

- Reputation guides created using the addon.

WoW-Pro Holiday

- Holiday guides created using the addon.

WoW-Pro Achievements

- Other achievement guides.

WoW-Pro Professions

- Profession and tradeskill guides.