The revisions let you track differences between multiple versions of a post.
Revision of General Reforging from Sat, 2010-10-23 16:17


Item and Ability enhancement has been around in World of Warcraft since day one and has steadily evolved into a massive core part of developing your character. Every single primary crafting profession has involved in this in some way:
Tailors - Leg Enhancement
Leather Workers - Leg Enhancements (and other armor kits earlier on)
Blacksmiths - Temporary weapon modifiers, Extra gem sockets, Weapon Chains
Alchemists - Weapon modifiers (earlier content)
Enchanters - Largest contributor of general gear enhancement
Jewel Crafters - Sockets and Trinkets
Engineers - Non statistic enchants (now stacks with enchanting)
Scribes - Redefining spell books and personal shoulder enchants
And that is just a general over view. As of Patch 4.0.1 raised the stakes once more and introduced a new way of itemization enhancements, independent of skill or professions. Welcome to Reforging
What is Reforging? In a nutshell Reforging is a new game mechanic that allows you to reduce a statistic on your gear, and then gives you a choice of another statistic that you can replace it with.
Sounds simple; and I am sure the gears are turning in your head right now. However, there are a few ground rules you need to know.
What Stats can I change
You can change any secondary statistic on an item, and replace it with a new secondary statistic that does not already exist on that item.
A secondary statistic is the inbuilt enchantment on that item, or in simple language, the green text: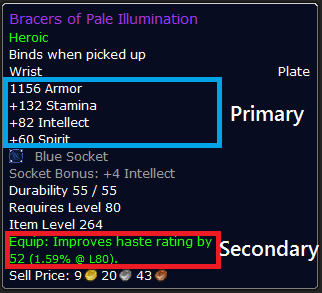 As you can see the item I have exampled has haste on it, however you have decided you would like to have a bit more Critical rating instead. With reforging you can do exactly that.
Are there any limitations?
There are a few limitations you do need to be aware of when reforging your gear. The first is the weight of the reforge. You can not take that 52 haste and turn it into 52 critical, you will only be able to reforge 40% of that value. So in theory you would be able to get 21 critical, leaving 31 haste as part of the original stat.
The second limitation is you can on reforge one stat on an item at a time. Don't panic though, as you can reforge an item as many times as you like, but you have to reset it's original state before you do so.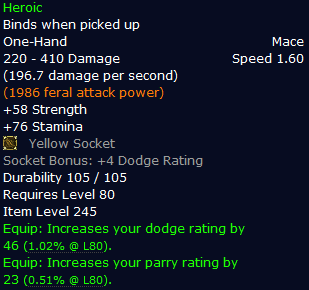 Where can I Reforge?
As of 4.0.1 reforge NPCS were introduced to all major cities with the exception of Shatrath City. Right now the name of the NPC is Arcane Reforger; though looking at the beta information they may individualize the mobs a little more. They can be found by the enchanting trainers.
Alliance: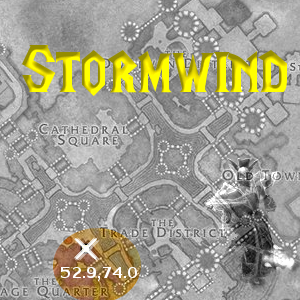 (54.9,74.0)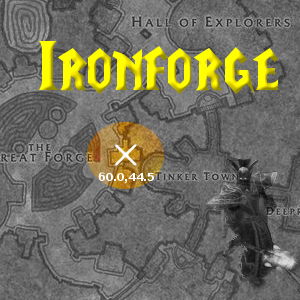 (66.0,44.5)