The revisions let you track differences between multiple versions of a post.
Revision of Dedication to the Cast of Wow-Pro Cataclysm from Tue, 2010-12-07 06:04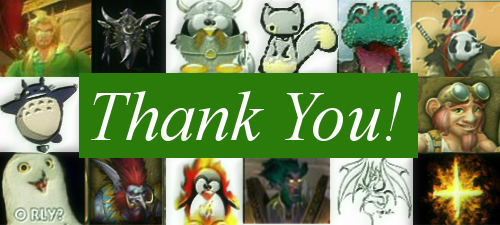 A Big Dedication and Thank You To the Team of people who made this happen, Albiet Administration, Addon Design/Support, or Guide Creation.
This message was originally supposed to go out to all the people in a private message format, but then it occured to me that that is in no way a loud and proud way to go about things.
WoW-Pro Officials -

Jame, Jiyambi, Snowflake

(Administators)

WKJezz

(Moderator)
WoW-Pro Addon Gurus -

Jiyambi, Gameldar, Gylin, Shakazhan, Silvann, Twists

Horde Kalimdor Creative Team -

Jiyambi, Manovan, Bitsem, Pretzl, Malorajan and Gylin

Horde Eastern Kingdoms Creative Team -

Liavan, Manovan, Crackerhead22, Snowflake, Malorajan, AyaJulia, Jiyambi, WKJezz and Dakota Fanning...?

Alliance Kalimdor Creative Team - Crackerhead22, Solitha, Bitsem, Jame, WKJezz

Alliance Eastern Kingdoms Team -

Rpotor, Tarix, Jame, Gylin, Kurich, Savagefool, Bitsem, Crackerhead22, Twists

Cataclysm Content Team (Inc. Starter Zones) - Arixan, Tarix, Sksus, MagigSN, Liavan, Bitsem, Jame, Jiyambi, Malorajan, Pretzl, Protor, Tarix
For an idea for anyone unfamiliar with the project who arereading this post. We produced over 45% of the content in the two weeks before cataclysm's launch. I have never seen a team of VOLUNTEERS dedicate themselves and rally to get a project done of this size so fast!

I would like to make a few SPECIAL dedication to the following people
Jame - Your guides have been an inspiration to us all. When I first heard the concept of cataclysm, I was excited as im sure many were. Later I thought about what it is you had done, and how I was gutted that the guides that you had brilliantly produced, were going to have to be a product of the Wow-pro archieves. Although your original guide and revisions may not be current with content, they will and should always remain the very bases of content we create on Wow-pro.
Jiyambi - How do you do it... I mean really... How? Jiyambi is someone I have not only admired as a motivator and determined person, but has also become a good friend. So often on sites you see Admins very detatched from their community baring a select few. Jiymabi has always welcomed and encouraged visitors, new members, senior members, and yes even moderators with all they do. Not to mention her massive involvement in the Addon, guide writing all mixed in with a hectic school schedule.
Snowflake - Websites often develop and adapt over time. In the middle of the cataclysm project Snowflake came in and took many of the suggestions and wishes of the community, and made them happen. I think I have seen this website evovle before my eyes in 2 weeks! Chat rooms for User Support, social networking interfacing and many many more technical hoo-ja-ma-flips that I will never understand!
The Community - For a World of Warcraft Site, our community is one of the most respectful ones I have ever seen. We have the odd gripe or snipe surface, but never have I seen the kind of hateful and disrespectful trolling on here that you see commonly on other sites (including Blizzard's Own) Moderating this site is fun, not a chore. Also for your hard work every day!
Wow-Pro Cataclysm team... This one, is for you!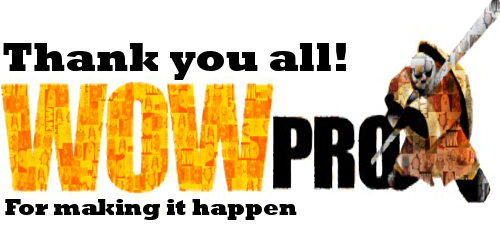 * 17 Spelling and Grammar checkers were harmed during the making of this post.