The revisions let you track differences between multiple versions of a post.
Revision of Cataclysm Dailys. (Alliance) from Sun, 2011-01-23 00:11
Welcome.
So you decided to do your dailys, for gold or rep or something else, maybe just for fun.

---
First let's see why are you doing the dailys?
Reputation
Professions

---
Choose your faction.

Baradin's Wardens
Guardians of Hyjal
Ramkahen
The Earthen Ring
Therazane
Wildhammer Clan

---
The Baradin's Wardens daily quests are split in to two areas.
Tol Barad
Tol Barad Peninsula

Estimated time: 15-25 minutes
These Daily quests are only available for you when your faction is in control of Tol Barad, The battle takes place every 2 hours 15 minutes.
You get the Dailys from the middle of the zone.
There's a total of twelve different daily quests with three of them being static and the other nine being randomly selected in groups by 3 after each battle. This means that if you do all these dailys then and your faction win Tol Barad again after a battle, you can go back and there might be three new randomly selected dailys.
I would suggest you get a group for this part since Problim is a group quest and it's easy to get overrun by the respawns inside the crypts.
The three static quests are:

A Huge Problem: Requires you to kill problim who's an 3 man group quest. But can be soloed by some classes.
The Leftovers: Requires you to kill twelve horde infantry
Swamp Bait: Requires you to obtain eight Crocolisk Hide

The nine others are (sorted by areas). You will always get the three dailys in the same area.
D-Block

D-Block: Requires you to kill ten demons, these are everywere inside the crypts.
Cursed Shackles: Requires you to pick up eight Cursed Shackles, these are shatterd over the ground inside the crypts.
Svarnos: Requires you to kill Svarnos, you only have to damage him to be able to loot the collar so it dosn't matter if someone else tagged him.
Cursed Depths
Clearing the Depths: Requires you to kill nine ghosts of any kind inside the the crypts.
Learning From the Past: Requires you to pick up four Dusty Prison Journal these are spread on the floor inside the crypt.
The Imprisoned Archmage: Requires you to kill Archmage Galus, you only need to damage him to be able to loot the staff so it dosn't matter if someone else tagged him.
The Hole
Prison Revolt: Requires you to kill ten prisoners inside the hole.
Food From Below: Requires you to pick up twelve Cellblock Rations these are spread over the ground inside the hole.
The Warden: Requires you to kill Warden Silva you only need to damage her to be able to loot the keys so it dosn't matter if someone else tagged her.
Here's a map of the area. (I forgot the quest hub that's why it's a 0)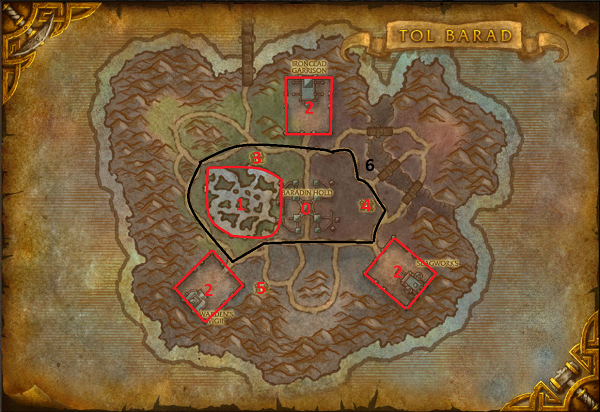 You can do these in the order you prefer, no need to follow my numbers
0. Quest Hub - Start here and pick the quests up.
1. Crockolisks for: Swamp Bait
2. Horde infantry for: The Leftovers
3. The D-Block for: D-Block,Cursed Shackles and Svarnos
4. Cursed Depths for: Clearing the Depths, Learning From the Past and The Imprisoned Archmage
5. The Hole for: Prison Revolt, Food From Below and The Warden
6. Problim pathing route for: A Huge Problem

---
Estimated time: 15-35 minutes
This is the other part of Tol Barad that's always open for both factions, you should be prepared for PvP combat while doing these dailys, and I would suggest you got atleast 1 or 2 others to go with to avoid being killed (tho it's not needed).
Here's alot of quests and they are all random, you will recive 5 or 6 quest every day.
(I've choosen a different layout here since there's so many quests)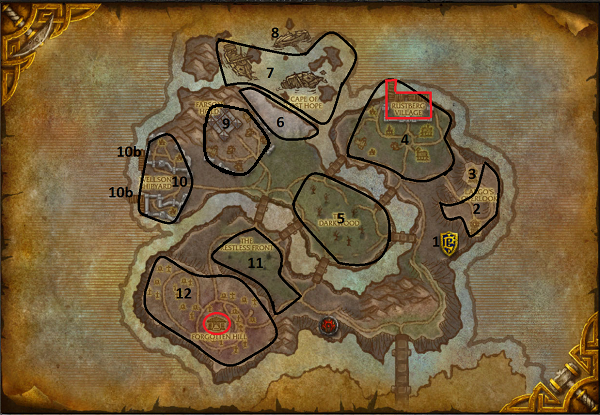 This is the quest hub were you recive and hand in all the quests.
A Sticky Task See area 5, Kill Darkwood Broodmother and loot Sticky Silk Glandfrom them.
Bomb's Away! See area 10b Use cannon to destroy ten boats in the water.
Boosting Morale See area 7 look for Barrel of Southsea Rum They are spread all over the bottom.(ps. look out for tank he hurts)
Cannonball! See area 2 the Stack of Cannonballs are scatterd trough this area.
Captain P. Harris See area 8 He's stainding on the ship.
Claiming the Keep See area 9 Keep Lord Farson is located on the second floor of the keep.
Finish the Job See area 11 The infantrymen might be fighting other npcs, but it shouldn't affect you.
First Lieutenant Connor See area 12 He's in the

red circle

at the top of the hill.
Ghostbuster See area 2 the ghosts are everywere in this area. You need to kill 14 to complete the quest.
Leave no Weapon Behind See area 9 The Rusty Rifles are in racks around the keep aswell as they drop from npcs. You need to collect twelve of these.
Magnets, How Do They Work? See area 11 use Magnatized Scrap Collector to find Siege Engine Scrap you need to find seven of these.
Not The Friendliest Town See area 4 You need to kill fourteen npcs around this area.
Rattling Their Cages See area 6 You need to kill eight Shipwrecked Sailors in this area.
Salvaging the Remains See area 12 You need to collect nine Cursed Femur From the ghouls in this area.
Shark Tank See area 7 You need to kill Tank who's an elite 3 man group quest, He's swimming around in this area.
Taking the Overlook Back See area 3 You need to kill Commander Largo. He's at the top of the tower.
Teach A Man To Fish.... Or Steal See area 4 Inside the

red area

you will find Rustberg Seabass hanging from "racks" you need to collect twentytwo of these.
The Forgotten See area 12 You need to collect six Forgotten Soldier's Tombstone each time you collect one a hostile npc will spawn and attack you.
Thinning the Brood See area 5 Requires you to kill twelve Darkwood Lurkers in this area.
WANTED: Foreman Wellson See area 10 Requires you to kill Foreman Wellson he's patroling around the boat in the middle of this area.
Walk A Mile In Their Shoes See area 9 Requires you to escort a Farson Prisoner to safety the Prisoner is located in the cellar of the keep and will run around abit before he runs outside.
Watch Out For Splinters! See area 10 There are big stacks of Shipyard Lumber shatterd trough the area you need to collect fifteen of these.
---
No dailys. Completing all the quests in Mount Hyjal and then using the tabard is your best option to get reputation.
---
Fire From the Sky Requires you to use a demolisher to kill 100 infantrymen. Also Requires that you've completed Fire From the Sky normal quest as a part of questing in uldum. This quest awards 250 reputation.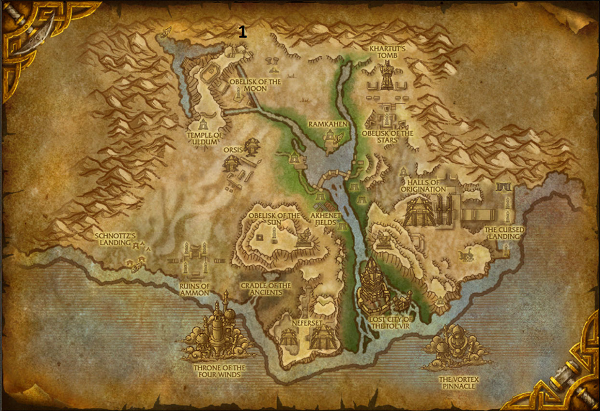 1. Here's the npc that gives you the quest and the demolisher located.
---
No dailys. Tabard is best option to get reputation and the quatermaster is located in vashj'ir, inside the Silver Tide Hollow, he's always here no matter the amount of quests you completed in vashj'ir.
---
Estimated time: 15-30 minutes
Therazane is Located in Deepholm and Requires that you have completed the zone to be able to start with the dailys.
There are five static dailys and one random and at honored you got 6 dailys available every day at honored and at reverd you got 7 available at revered, and of those two are random.
NOTE: if you're only offerd 5 quests at Therazane's Throne there's one inside the crumbling depths in the first room after the entrance.
Honored
and one random of the following:

Lost In The Deeps: Requires you to find and escort Pebble to safety.
Underground Economy: Requires you to collect 12 different crystals.
Beneath the Surface: Requires you to collect a Ruby Crystal Cluster from a Enormous Gyreworm.

Revered One random of the following:

The Restless Brood: Requires you to defeat Aeosera.
Glop, Son of Glop: Requires you to Defeat Fungalmancer Glop.




Therazane's Throne - Quest hub to get your quests.
The Crumbling Depths for Fear of Boring, Motes and one of; Lost In The Deeps,Underground Economy or Beneath the Surface
The Crimson Expanse for: Soft Rock, Fungal Fury and Through Persistence
The area to summon Aeosera for:The Restless Brood
Entrance to cave for: Glop, Son of Glop

---

The Wildhammer clan is located in Twilight highlands and required that you have completed the quest up to and including thundermar (if someone can tell me what quests unlock the dailys I would be happy).

There's a total of five dailys granting reputation with the Wildhammer Clan.

1. is the quest hub were you can pick the quests.

The Line is for Beer Run

Spawn point for Warlord Halthar

Spawn points for Fight Like a Wildhammer,Kegs of Thundermar Ale and Never Leave a Dinner Behind

---

Professions Are you doing the dailys for a Profession token or skill.

Choose your profession.


Cooking
Fishing
Jewelcrafting


---

There are 5 different cooking dailys you will recive one random each day. All of them are located in Stormwind and all of these are awarding cooking skill and 1 or 2 Chef's Award wich is the currency for all cataclysm cooking recipes.

1.is were you collect the daily.

Locations for: Gigantic Catfish
Locations for:Confectioner's Sugar
Locations for: Juicy Apple

The Green line is for Canal Crab
The Green Circle is for Stormwind Pumpkin
There might be more spawn points than I listed but this should be enough for you to finish the quests.

---

There are 5 different fishing dailys. All of them are located in or close to Stormwind and all are awarding fishing skill and a Bag of Shiny Things. These only require that you have 1 skill in fishing.




This is the location of the quest npc.
Crystal Bass Red area is for worms.

---

There are five different Jewelcrafting dailies,the lowest skill you need to start doing them are 475.

---

That's it for my guide to Cataclysm Dailys, maybe I'll see you again tomorrow or you're just sick of dailys and will do something else, I just hope this was helpfull.

---

p.s Please leave constructive comments to help me improve it or just tell me you liked it
p.p.s I will most likely add more screenshots to make the guide easier to follow but this should give you the general idea of what to do and were to do it.