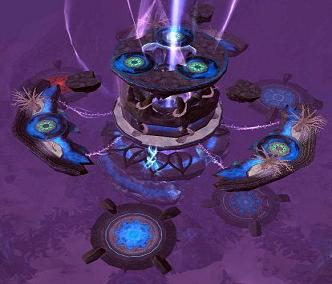 The Oculus is a high level 5 man dungeon located within the Nexus. It is unique in the way it allows each player to control flying drakes with specific roles (tanking, healing, damage dealing) to complete the dungeon.
Special thanks to Eric for his Eric's The Nexus Guide, in which format I will try to follow. And hey, who'd ever thought I release a guide on my birthday?

---
Table of Contents
---

Level Range
Back to the top
---
It is often thought that Oculus, even on normal mode, is for level 80 only. I beg to differ.
*75 – Lowest you can enter. Do NOT run the instance at this level though!
*76 – If you have all 80s and one 76 DPS you should be okay.
*77 – Once again with 80s you can run this.
*78 – Lowest level I recommend running as.
*79 – Perfect level for running!
*80 Normal – Often referred to as the only level you can run as.
*80 Heroic – Can be difficult without a geared tank and healer.
---

Quests
Back to the top
---
There are 5 quests you can do on normal mode (4 quests and daily). 1 Daily Heroic.
Normal Mode Quests
*A Unified Front
*A Wing and a Prayer
*Mage-Lord Urom
*The Struggle Persists
*Timear Foresees Centrifuge Constructs in your Future!(Daily Dungeon)
Heroic Mode Quests
*Proof of Demise: Ley-Guardian Eregos
Onto Business..
If you are planning on running Oculus for the first time, check the Daily Dungeon quest giver and see if he has Timear Foresees Centrifuge Constructs in your Future!(Daily Dungeon). If not, That's okay.
Fly to Coldarra. Find Raelorasz right next to the flight path. Accept The Struggle Persists. Note – There is no pre-req to pick up this quest.
The other 3 quests are completed inside the Oculus. I'll cover them as we go along.
---

Group
Back to the top
---
*Tank: Without throwing specifics out, a tank should be in 80 blues and/or Raid Loot.
*DPS: The gear you hit level 80 should work fine, but you may want to try some other heroics if you want to perform the 1337DEEEEEPS.
*Healer: Same as tank, should be in 80 blues / raid loot.
Alright, I think we got everything covered, zone in!
---

PART 1: DEFEATING DRAKOS AND GETTING YOUR DRAKE
Back to the top
---
When you first zone in, you'll see quite a few trash mobs standing in your way. These should go down easy, but can hit you hard if you're not tanking.
You may want to go slow through here your first time.

Once you have defeated trash, you'll see a portal. Take it. Now standing in front of you is Drakos the Interrogator.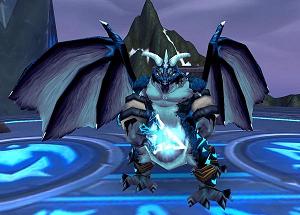 HP: Normal – 325k Heroic – 431k
Drakos has 2 abilities.
*Magic Pull – Will pull everyone to him.
*Thundering Stomp– Does Damage and knocks you into the air.
Strategy
This boss is easy for everyone but the healer. Tank him in the middle of the ring. DPS and healer must avoid the magic orbs flying around. They have the potential to wipe your group.
Good job! Now to get your drake…..
Drake info
The dragons are used to fly from platform to platform, as the whole instance is more a huge space of floating platforms. And you need the dragons abilities to fight the dragons of the blue dragonflight flying around there.
There are only 3 to choose from:
Green, Red and Bronze, all with 2 unique abilities.
But once you get to the a platform, you hop off your dragon and fight some trash, except for the last boss, for whom you need to ride those dragons. It does not matter what class takes what drake, as long as you are able to use it correctly.
Red (officially called the Ruby Drake) – This is the tank drake. Read your special abilities carefully, because you will be tested on the last boss!
Green (Emerald Drake) – The healing drake. For this, just keep a stack of 5 poisons on your target and make sure to cast your healing spell when needed.
Bronze (I forgot the official name) – The DPS drake. Basically you're spamming ability #1 on targets.
NOTE: All classes get a new special ability when you get to the last boss, I will cover that then.
---

PART 2: THOSE DAMNED MONSTERS!
Back to the top
---
Make sure you have turned in the first quest of course, and get the follow up.
Now we get to a special point, where we kill those damn constructs.
Fly around the platforms until you find a construct. Get off your drake, and make sure your group does the same. Kill it. Repeat until you've killed all 10 constructs.

Now you're headed to the second boss. Varos Cloudstrider. Before engaging combat, make sure you and your party defeat all the mobs around the ring, as Varos can summon them into the ring and kill you.
Varos Cloudstrider
HP: Same as Drakos.
Ablilities:
*Amplify Magic – Self explanatory, he allows you to take more damage from his spells.
*Call Azure Ring Captain – If you've defeated all the mobs around the ring, he shouldn't do this.
*Energize Cores – He hurls bolts of lighting at his cores, which will attack you.
STRATEGY
This mob can be a pain to defeat. You must make sure to stay out of the lightning when he casts Energize Cores. This may mean you have to run around quite a bit. If you wipe, try again. Like I said, he is a difficult boss to down.
When you down him, the original quest giver will show up on the platform. Turn in the quest, get the follow up.
---

PART 3: THE ANNOYING MAGE-LORD UROM!
Back to the top
---
Fly up a bit, to an outer ring where Mage-Lord Urom is. Get off your drake, and get ready for the most annoying fight of your life. Well MY life.
When you attack, he will run away and summon mobs to attack you. Down them, and continue to the next platform.
He will do the same thing, down them, go to next platform.
Finally, after 3 or 4 platforms (not sure) you are able to face him in the center ring.

Mage-Lord Urom
HP: Same as first 2 bosses.
Mana: 61k Normal, 83k Heroic.
Abilities:
*Frostbomb – Urom throws a bomb, hitting its target with the highest aggro which inflicts damage and drops a frost zone on the ground. This zone deals frost damage per second and reduces the movement speed by 35%. Lasts 1 minute.
*Time Bomb – Deals 3.800 to 4.200 arcane damage to a random player, and after 6 seconds, deals zone damage to nearby equal to the health missing of the target afflicted by the debuff.
*Empowered Arcane Explosion – Urom teleports in the center of the oculus and starts to cast a powerful AoE during 8 seconds. This spell inflict 9.000 arcane damage, is not interruptible but only deals damage when in line of sight.
Yes, these abilities are hard to avoid, unless you know how to.
STRATEGY
The tank will kite him around the ring in a circle. He will throw bombs on the ground, like hunter's traps, avoid them. When he teleports to the center of the ring, stand behind one of the pillar/rocks so you are not hit by his deadly blow.
He will do this time and time again, just make sure you know what you're doing and he'll go down.
Once down, the original quest giver appears again. Turn in quest, get followup.
---

PART 4: LEY-GUARDIAN EREGOS!
Back to the top
---
Your drake should have a new ability now.
Fly up to a platform AROUND the center ring. DO NOT get too close to Eregos.
Stay on your drake for this fight. It is by far the hardest and most confusing fight.

Ley-Guardian Eregos
HP: 2997k Normal, 3875k Heroic!!!!
Abilities:
*Arcane Barrage – inflicts damage to a target.
*Arcane Volley – inflicts damage to a target.
*Enrage Assault – Eregos becomes epic badass and kicks your ass.
*Planar Shift – This means run away! Charges will kill you.
Strategy– THIS IS A VERY HARD FIGHT!!!! PAY ATTENTION!!!
Eregos has two repeating phases. During the first phase he'll DPS as normal while spawning little whelps to attack you. The ruby tank's damage ability is like C'thun's Eye Beam – it bounces from target to target and increases in damage each bounce. So the whelps should be naturally taken care of by the tank, since he'll be DPSing the whole time anyway. The tank should also be using his evasion ability whenever it's up. Amber drakes should be stacking charges and DPSing. Since you'll most likely have 2 or 3 amber drakes, it's a good idea to establish a rotation for time stop so you can keep Eregos frozen as long as possible. Occasionally Eregos will enrage. It isn't a particularly nasty enrage, but if you have a time stop free USE IT! You won't immediately wipe if you don't, though. Green drakes should be healing like normal. Also keep up a stack of 5 poisons on him.
Eregos' second phase is when he goes incorporeal. When he does this he'll summon big, pink floating orbs that will follow party members around in the air, and explode for big damage should they get close enough. Just run away from them, and when they disappear, go back to DPSing Eregos. Repeat the process until he's downed.
WOW THAT WAS A LOT TO WRITE!
Congratulations, you've defeated The Oculus. On one of the mini-platforms next to where Eregos was, find a chest. That's your loot from him.
Back to the top
---
I WILL ADD LOOT AND MORE DETAILS/PICS LATER! THIS IS JUST A HARD COPY FOR PEOPLE THAT WANT THE STRATEGY AND WALKTHROUGH!
Thanks once again, to Eric. Also thanks to WoWhead for the list of boss abilities. Comments, questions, concerns, errors, please comment!