Original author: Crunge75
Table of content.
1. Introduction.
2. Class, skills and other recommendations.
3. Rivern Frostwind.
4. The Quests.
5. Your income.
.
---
1. Introduction
Well a short introduction I suppose is at hand. These are notes I put together while leveling a Paladin on an original account (no Burning Crusade and/or Wrath of the Lich King installed). My goal was to see if I could raise the amount of gold needed for 1-300 riding skill before level 61. In addition I wanted to do it in shorter time then it took my first character to raise 5000 gold.
The idea is to do the reputation grind for the Wintersaber Trainers, which gives a nice mount in the end. While doing this, you should skin every slain beast, mine every node or pick every bush you come across. Of course, this guide does not guarantee 6310 gold, but I'm sure you can come close to that 😉
I was intrigued by this because my first horde character, a druid, obtained his first 300 riding skill around 3 months ago. It took him around the same amount of time, to raise the gold from doing dailies, farming motes, etc.). I also wanted a 70 from both sides ready for the next expansion when it came out.
I'm proud to say in just two months and 15 days my Paladin has made 6310 gold while being level 60. Perhaps the most intriguing (I suppose to new players as well as those that do not have 70's) is that all you need is a 58 plus character, two/three hours per day, patience, and discipline.
.
---
.
2. Class, skills and other recommendations.
The class can be any; it doesn't matter as long as you enjoy the class. For skills, however, I highly recommend you get [Skinning] and [Mining] or [Herbalism], because thats where the bulk of the money comes from. You need to level these 300, to be on the safe side.
While not needed, I do recommend on having an alt character that has [Enchanting]. Which is capable of disenchanting items varying from level 51 to 58. This is not a must, because you can also sell the items you loot on the Auction House. So first, check what sells more.
Also a 100% mount does help, this makes the process alot faster. My paladin, at the time of beginning and ending of this grind, only had the 60% mount.
.
---
.
3. Rivern Frostwind.
You'll get to know him pretty well in the upcoming days, because he is the reason behind the grind to the gold. The mount he sells is unique, and even though the reputation grind has been made easier, this guide is still worth following.
As the tooltip states here: [Reins of the Winterspring Frostsaber], the mount itself is a very fast mount but only requires 75 riding skill!
.
---
.
4. The quest.
[Frostsaber Provisions] is the first quest Rivern gives you, and the only one we will use in this guide. For this quest you need to get:
This quest gives 250 reputation points.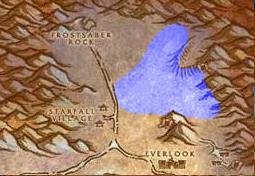 You can find Elder Shardtooth bears and Chillwind Ravager's in the blue marked area.
.
---
.
5. Your income.
If you don't have a bank character, make one now. A bank character is a character you make and is standing in a major city. All he does is picking up all the loot you send to him/her and that bank account sells it. This saves you the travel to the major city every time you want to sell stuff, at the auction house. This is the reason it's a must for this guide.
So you know that the idea is to skin every mob, mine every node and collect every bush you come across. With a bank character ready, simply visit the mailbox in Everlook once in a while and send it. The greens, blue's or even epic's you get, will sell nice, otherwise the materials you get from disenchanting them, will.
While long and tedious, it was refreshing to earn enough gold needed for 125, 225, and 300 mount training before 70. In turn I think it will make 61-70 more enjoyable this time around because you do not have to worry about the price of the mounts you get later on.
As a last note I want to point out that most of this guide is made by Crunge75 and that Trollvink has added some addition stuff, like the map, some links and sections.
I hope you enjoy this little guide.
~Trollvink.