Introduction
If your reading this you've probably seen videos on multi-boxing, if not just youtube multi-boxing and a bunch of videos will come up.
Table Of Contents
Introduction
Required/Recommended Programs
Starting Off
Code
Conclusion
Comments
Introduction
If your reading this you've probably seen videos on multi-boxing, if not just youtube multi-boxing and a bunch of videos will come up. If doing that interests you but you have no idea where to start and/or don't want waste the money paying for two wow accounts and doing nothing with them then this guide is for you!! In this guide I only focusing on using two WoW's on one(1) computer. Sorry for those who want to do more but my computer can't support them :(.
Required/Recommended Programs
HotKeyNet – This is a free program that you can use to start multi-boing, the other one mentioned in multiboxing's guide is pwnboxer but you have to pay for it and Im trying to make this guide usable by all without making them buy products.
I also recommend getting a private server (sorry blizzard :P) as this will let you play for free and get used to multiboxing.
I also recommend you get a notepad program, windows and mac come with them so at least know where to look for them 🙂 .
Starting Off
To start multi-boxing you have to write a code. Luckily for us some helpful soul already made a good code for running 2 WoW's on one computer. Here. Feel free to change any of the hot-keys to suit your keyboard and other needs (I no my keyboard doesn't have ScrollLock so I changed mine to CapsLock)
Now you'll also want to do things at the same time so I use this code here to make my mouse clicks appear on both screens. You'll notice in both codes one the modifiers, or buttons that you press to separate a specific action from another is "oem3" that button is the key to the left of you number one(1) of your keyboard and look like this ~ when you shift-press-it.
So lets say you've got those two codes but you still have to click on the different WoW's to put in the different usernames and passwords. No problem i came up with this little code to put it in both, the only problem is you do one you must click on the other text slot to put in the other (i.e once you put in the username you have to then click on the password text box to put in password.
Code
These codes are good for putting in your username and password without having to click on both screens and typing them in individually. For both codes just replace "username1" and "username2" with your usernames and passwords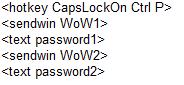 Conclusion
Those are the basics to understanding multi-boxing. Feel free to make your own code and if you feel as if they would help the community feel free to PM me them and i will add them with your name beside. Please note when making codes the =, and – are refered to as Equal and Plus, for example
< Hotkey Equal Plus >
Not
< Hotkey = – >
It will not read that as code and therefore that command won't work. You may find a lot of useful codes on the right hand side of This Page. Thank you for reading and any feedback is greatly appreciated.