Warning! This guide is only for Alliance players. I will try to make a horde guide with other pets to sell.
Hi! This is my first guide and I hope you like it. This method is tested by me and it works! I´ve made almost 800g in about 5 days using this technique. The profit may be different on other servers but you should still make some gold of it :).
Recommended Character Level: lvl 30+ (you can be lower but it can be a little harder then).
I like to call this method "Petshop". You will see why.
---
1.Bying pets
The pets you should buy are Alliance only pets, and Horde players can only get them by buying them on the neutral AH. For Alliance players the pets cost between 20-60s. Here is a list of some pets that are Alliance-only and where to find them:
Location: Pet:
Darnassus Great Horned Owl
Darnassus Hawk Owl
Dun Morogh Rabbit Crate (Snowshoe)
Elwynn Forest Cat Carrier (Bombay)
Elwynn Forest Cat Carrier (Cornish Rex)
Elwynn Forest Cat Carrier (Orange Tabby)
Elwynn Forest Cat Carrier (Silver Tabby)
Stormwind Cat Carrier (White Kitten) The vendor to this pet, Lil´Timmy, is a rare spawn and only sell one cat per spawn.
Here are the locations of the pet vendors:
The vendor sells the two owls.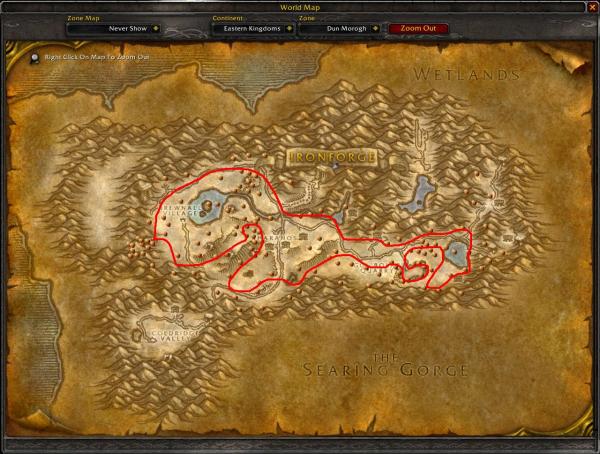 Look for a little boy that plays with a rabbit at this location.
---

The vendor sell the cats Bombay, Cornish Rex, Orange Tabby and Silver Tabby. She is in the cottage.

This is the route that Timmy goes when he spawns. I hope this will help you to find the vendors.
---
2.Selling pets
Now you bought your bags full of pets, it´s time to but them on the AH. Go to Booty Bay or Gadgetzan and put it on the neutral AH. Put them up for 5-10g and if you got the white kitten put it up for about 100-500g, depending on the servers economy. If you are at a lower level than 30 then you may need to spend some gold on an escort to Booty Bay, swim from westfall or tip someone with a multipassanger mount to lift you there.
---
3.Repeat
Now you just wait for the money to come in. The pets that expire you just put back for sale again. When you have sold all of your pets- repeat the cycle.
I really hope this technique will generate alot of gold to you. It has worked for me and I´m sure it will work for you to.