Whether you are a professional gamer or engage in it for kicks, a VPN can significantly enhance your gaming experience. For starters, VPNs protect gamers from disgruntled opponents who may think of launching a DDoS attack. Also, it shields from ISPs who throttle bandwidth as soon as they realize users are playing intense, multiplayer games or streaming online content.
Other purposes served by VPNs are protecting personal data against potential threats online, adding an extra layer of security by encrypting gamers' Internet connection, and allowing gaming enthusiasts to bypass geographical restrictions to access games unavailable in their country. Moreover, it provides early access to games that may have been released in another country.
In the gaming world, the use of VPN is more common than you think. For example, you can use it to enhance your experience of playing World of Warcraft. A VPN for WoW stabilizes unreliable Internet connections and allows you to change your IP address so your opponents cannot launch a DDoS attack.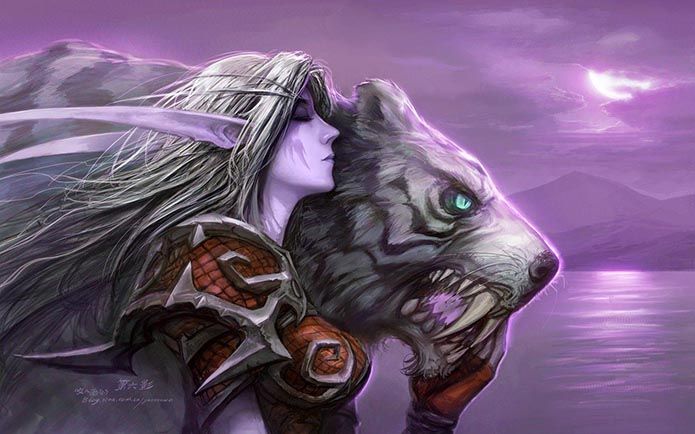 That said, there are so many competing VPN providers that selecting the right one is daunting. If you don't know all the features you need, you cannot justify comparing the popular VPNs for gaming either. For example, getting into a debate regarding Surfshark vs Nord with your other gamer friends will be futile if you don't know what features you are looking for.
So, follow this guide to pick the perfect VPN for gaming. The features you should look out for are given below.
Server locations and speed
Speed is of utmost importance when you're selecting a VPN for gaming. So search for providers offering high-speed connections with low latency.
Also, ensure their servers are strategically located in gaming-friendly regions. If it is closer to the servers you access frequently, the latency will be lower, and you can have an excellent gaming experience.
It is a privacy concern if the VPN provider keeps logs of users' online activities. To ensure your Internet usage and gaming activities remain private, you must select a VPN that has a no-logs policy. This policy means that the VPN will not keep records of your online activity, and you can engage in online gaming with total peace of mind.
For instance, NordVPN and Surfshark have a no-logs policy.
Top-notch security features
Check the security features offered by VPN providers before making your choice. You want a VPN with security protocols and strong encryption like IPSec/IKeV2 or OpenVPN. These protocols and algorithms keep all non-gaming and gaming activities private.
The primary purpose of VPNs is to protect users' privacy by creating a secure, encrypted tunnel through which data is sent and received. A wide range of security protocols are used to encrypt data. Therefore, if the VPN service offers multiple security protocols, it is better for you. However, ensure it has the OpenVPN protocol because this is the most advanced protocol currently used.
Besides this, the VPN service must have some reservations for the times when VPN connections drop unexpectedly. Although this is rare, it may happen. In such situations, a kill switch is a handy feature. This feature disconnects the user's device from the Internet if the VPN connection drops. Given the importance of this feature, almost all premium VPN providers offer it.
Issues may arise unexpectedly, and you'll be stuck if there's nobody to help you out of the pickle. Your gaming experience will be hampered, and you may even lose a match if you are in the middle of a tournament.
Avoid such chaotic situations by choosing a VPN provider with 24/7 customer support. It will give you peace of mind knowing technicians can troubleshoot your problem if something goes wrong while you are enjoying a game.
To get a sense of the customer support quality of the VPN provider, you will have to go through customer reviews.
The price or subscription fee of the VPN service is written last because price shouldn't dictate your decision. Although, of course, it is an essential factor of consideration. But don't base your decision on how less or more the subscription fees are. Also, please note that just because a VPN service is more expensive than another doesn't mean it is better. Therefore, you must choose two or three VPNs for gaming by going through the features they offer and then comparing them. Then, find out which one offers the best value for money.
After making your choice, keep an eye out for deals and discounts. Also, most VPN providers offer a reduced subscription fee if you are signing up for an extended period of time.
One very important thing to note here is to stay clear of free VPNs. They might be tempting because they cost nothing, but free VPNs are ineffective. Some of them collect data logs and cause congestion and lags. If you want free service, you can use VPN services offering 30-day free trials with a money-back guarantee. While this isn't completely free, it lets you use the premium features for thirty days.
While we're on the topic of guides and free stuff, if you're playing World of Warcraft Classic, we have a completely free and awesome wow classic leveling guide available here.
Popular VPNs for Gaming
Although there are many options in the market, these are the popular ones for gaming.
NordVPN – Excellent for gaming as it has 5000+ servers in 59 countries. The servers are incredibly fast, and it has a no-logs policy. Moreover, this VPN service has no bandwidth or speed limits and seamlessly allows gamers to enjoy games like Call of Duty and Final Fantasy.
Surfshark – With 3000+ servers, Surfshark is another popular option for gamers. It allows unlimited simultaneous connections, and its high-speed servers are optimized for gaming. The VPN service offers DDoS protection, a kill switch, DNS leak protection, etc. You can enjoy League of Legends, Overwatch, etc.
ExpressVPN – This VPN provider operates 3000+ servers in more than 100 locations. The servers are optimized for lightning-fast speeds, with no bandwidth or speed limit. It is ideal for PUBG, Warzone, etc.
The Bottom Line
Choosing the perfect VPN for gaming is essential in improving your gaming experience. Consider the factors mentioned above when making your choice.