After the wrath of the Greek gods, it is the wrath of the gods of Asgard that must fall on Kratos and Atreus. They will once again have to brave all the dangers that come their way. However, wouldn't the greatest danger be a postponement of God of War: Ragnarök? Fortunately for us, the developers have just come to the rescue and confirmed that the game will indeed be released on November 9th 2022.
We are thrilled to announce that #GodofWarRagnarok has gone gold!

On behalf of SMS and all of our partners, thank you to the fans for supporting us over the course of development. We're almost to launch and can't wait for you to play on November 9! 💙 pic.twitter.com/vptHyKJ1JP

— Santa Monica Studio – God of War Ragnarök (@SonySantaMonica) October 7, 2022
We're almost there! You're not dreaming, God of War Ragnarok is coming in just under a month. Recently, Sony and Santa Monica's blockbuster went Gold, which means that its "1.0" is now finished – ready to be printed and shipped worldwide. This is very good news, and it makes the November 9, 2022 date for PS4 and PS5 even more certain. Moreover, we already know the date to pre-download God of War Ragnarok in order to be ready for the big day.
God of War Ragnarok pre-download date
The info comes from a certain Joe Miller – who regularly posts video game content on Twitter. After pre-ordering God of War Ragnarok, the man went to his PS5 library and noticed that the pre-download of the game will be available on November 2nd, a week before the official release! That's plenty of time for players who don't have a good internet connection. A good point for Sony.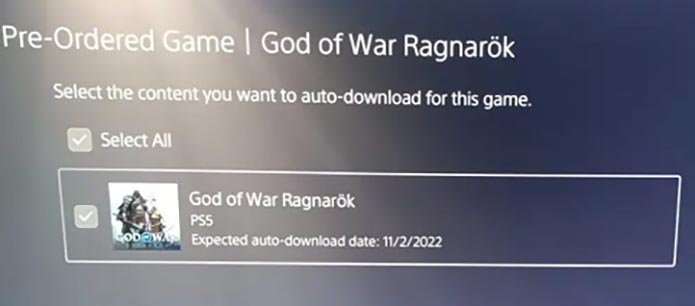 But less than a month still feels so far away when all you've got to sink you teeth in are very short cinematic and gameplay trailers which end up leaving you wanting for more. Maybe kill some time playing mobile casinos uk where users can play games and win money on their mobile phone anywhere as long as they have an internet connection.
Or you can stay more within the God of War theme and go crazy and re-do all the previous God of War games to warm up properly? Heck, why not even go overboard like this crazy gamer called Pyo who just got the Platinum Trophy for ALL existing God of War games ever released! Now that's what I call dedication 🤩
I'VE DONE IT, every version of god of war ever made is 100% completed and platinumed!!!!

I AM READY FOR RAGNARÖK PS5 LET'S GOOOO pic.twitter.com/QlfidhuX5j

— Pyo 5️⃣ (@mrpyo1) September 25, 2022
Preparing for God of War Ragnarok
So you've already pre-orderer the Standard Edition or the Deluxe Edition of God of War Ragnarok?
You've made sure your auto-download is toggled on so that the game will pre-download starting from November 2
What else is there to do to get ready for this huge game?
Make some time: if you've got things to fix at home, work related obligations to take care of, filling up your fridge and pantry with your favorite food and drinks. Do it now, because the game will be huge! The game size is reported to be 90,6 Gb, which is more than twice the size of God of War 2018... which was already a big game by modern standards with at least 50+ solid hours of gameplay to complete the game and much more than that if you went past the Main Story to hunt all the Valkyries and other side bosses.
Make some space: as I just mentionned, the game size will be 90,6 Gb. So if your PS4 or PS5 is short on space, now is the time to clean up your inventory and even make space for an extra 20Gb to be on the safe side. No matter how polished God of War Ragnarok is at launch, there will be patches, so extra space will be needed.
Do your research: will you be going into the game blind for your first playthrough? Or will you wait for your favorite YouTuber to bring you some tips and tricks to get the best possible start in God of War Ragnarok? Yours truly will certainly release a few videos to help you out, here's a sneak peek of what I plan to do on My YouTube Channel, which you should definitely Subscribe to right now and turn on

Notifications

:
God of War Ragnarok: Basic Tips
God of War Ragnarok: Advanced Combat Tips
God of War Ragnarok: Best Early Game Build
God of War Ragnarok: Best Late Game Build
And of course, I will be working tirelessly to bring you the best possible God of War Ragnarok 100% Walkthrough, with the Platinum Trophy and all side content neatly wrapped into an Ultimate Guide!
Will you be playing God of War Ragnarok? How pumped are you for it? If not, what games will you be playing instead? Let me know in the comments 😉
-Jame