We've noticed lately that our old guide project system didn't work quite well. Also guides themselves are often submitted and then abandoned. (no updates, not finished, etc.)
But we are proud to announce that we have implemented a new guide project system that allows everyone to easily participate in improving, writing and maintaining guides.
What to do
Guides where people wish collaboration and active feedback, should from now on be submitted as guide projects.
An example for such a guide project can be found here: click.
You can view all existing guides by clicking on "Projects" in the navigation menu to the right.
So how do guide projects work now? If you click on the example project I linked above, you'll see the project "Best Items Out of Raid and How to Get Them" with the following links at the bottom: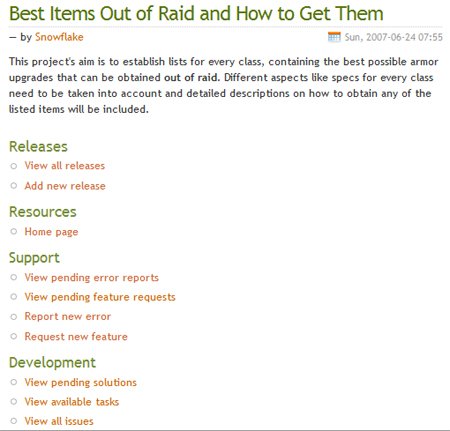 Here you can either:
View all available releases of the guide project
Add a new, official release. (only the owner can do this)
View error reports or feature requests that have been made so far concerning the guide(s) linked to the project.
Report a new error or request a new feature.
View available tasks. Clicking on this will show you all errors and feature requests that need a solution. You can submit a solution or an error fix.
These requests and error reports are both classified under "issues". You can view issues in general and your personally submitted issues by clicking on "Projects" in the navigation menu to the right.
You can choose to be notified by email when a solution for your issue is proposed.
Issues themselves can have several statuses: active (means no fix proposed yet), solution (needs review, needs work or ready to commit) – this status can be chosen when someone submits a valid solution for the issue, fixed, duplicate (if the same issue exists alread), postponed, won't fix, by design (if the issue is no issue for the original author), closed (when a solution is found).
At the moment those statuses are attributed by moderators and by the admin, however if the project system proves to work correctly, everyone will be able to change these statuses.
Don't hesitate to try this out, you can even submit issues about guides that aren't projects. The system really works well and has a lot of potential 🙂