WoW-Pro's team is working on our very own addon! Though the initial use will be primarily for leveling guides, the addon will eventually encompass many of the guides which appear on this site.
This does mean we are no longer supporting or updating the old, Tour Guide based guide. In addition, we will only be providing limited support for the old guide files, since most of them will become obsolete when Cataclysm is released (Outland and possibly Northrend being notable exceptions).
The Guide Window
More details about the new addon and awesome screenshots after the break.
Dropdown Menu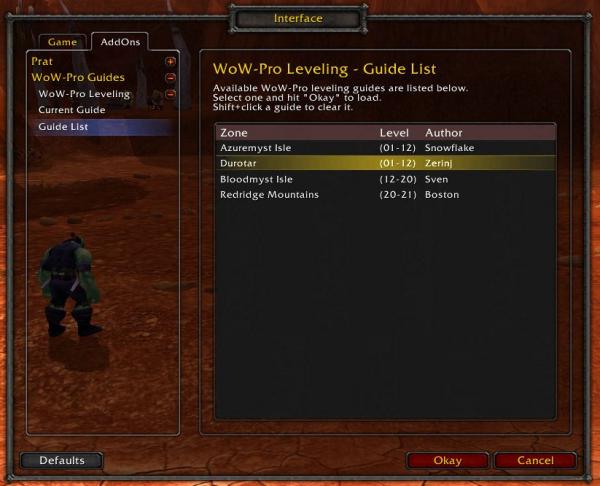 Options Page
What we need from the community:
First of all, patience. We will do our best to come out with an up to date, new addon quickly, but it will take time.
Secondly, we need input! Please post here with suggestions for features you'd like to see in the new addon.
Thirdly, we need help! The addon is currently in a closed ALPHA stage. Most features work but there are known issues and very few guide files have been converted to the new format. If you are a regular member of WoW-Pro, have some coding experience, and want to help out with alpha testing, please send me a PM.
Once the rest of the basic features have been added, and more guide files have been converted, we will release the addon for an open beta test by all our WoW-Pro users. Our goal is to have a finished, polished addon ready for Cataclysm.
Current Addon Features:
Check-able list of steps with detailed descriptions listed below step titles
Manual completion enabled for all steps
Auto-completion enabled for Accept, Turn-In, and Complete type steps.
Coordinate mapping for single coordinates supported through TomTom
Sort-able guide list showing zone, author, level range, and amount completed. Now has scrollbar (woopsie!)
Guide window is resizeable and can show number of steps from 1-15.
Guide list now correctly displays progress for all completed steps, not just manually completed ones.
Current guide pane which allows you to scroll through the entire current guide, completed and non-completed steps.
Addon automatically queries the server when you log in and updates a database of completed quests, so no progress will be lost even after a client crash.
Sticky steps! Used for "do as you go" steps, they appear above the normal step and stay there until completed.
New: Auto-completion is now supported for flight, hearth, run, boat, and get flight path steps.
Known Issues (to be fixed)
Coordinate mapping only works within the guide's title zone. Multiple zone support to be added soon.
Guide window resizing is not smooth and looks rather odd. It can also be resized to too small for 1 step (which means no steps display) or too large for 15 steps (leaving blank space).
Auto-completion not yet supported for partial quest complete, set hearth, loot, and use steps.
Next guide does not yet automatically load when you finish a guide.
Future Features:
Need to add support for listing certain steps as dependent on multiple quests being completed to be checked off (steps to go to a questing hub, for example)
Use item buttons. We're going with a look similar to quest helper, though may provide a move-able button or a keybinding for the current step similar to that in Tour Guide.
Animation for checking off steps (a check mark appears, old quest fades out, other quests move up).
Either integration of the arrow, or permission from TomTom's author to redistribute their addon, maintaining the author's name and the addon's original name (basically leaving the addon untouched).
Support for area vs. patrol vs. player run path type coordinates.
Display customization (font, font size, colors, amount of info displayed – ability to use mouse-over tooltips instead of displaying the full step)
Support for step skipping (not the same as manual completion) – the guide knows you did NOT complete the quest and will not ask you to complete quests with follow ups. Perhaps has a confirmation message stating "Skipping this step will result in skipping X follow-up steps". Need to add support for quest dependencies for this to work.
Auto-load a guide based on level
A separate "shopping list" frame which can be opened with a button on the title bar, used for a couple things in the leveling guide but which will get the most use for profession guides.
Improved logic/display for multi-objective steps. Not exactly sure how this would work, but perhaps have "substeps" which are displayed together, and checked off as they are completed.
For guide coders, I'd like to see a little more formatting ability for the mouse over notes. There were many times I'd wanted to add new lines to improve readability, and was unable to.
An optional target button, which allows you to target a named mob and places a raid icon above it's head. This will help locate wandering mobs. Ex: |T|Bjomolf| would find the wolf Bjomolf if he is in range, target him, and place a skull above his head so he can be easily located.
Ability for the guide to double as a quest tracker (showing the current quest's completion status) as an option. Example: "Mobs slain: X / Y" would display underneath the |N| text display.
Guide File Updates:
Guide files will be needing some significant updates. You can help us out with these even if you aren't currently working on the addon.
Include quest tags for each step (not just quest steps) so they will be auto-completed properly (I understand this was already being done when the addon switch was initiated).
Our own coordinates for quest givers and turn ins.
Coordinates are no longer listed in the |N| section (that's just for descriptions of the step now). Instead they are listed in the |M| tag like so:A Your Place In The World|QID|4641|N|From the NPC in front of you.|M|43.3,68.6|
Possible Future Addons:
WoW-Pro Talents – Easy talent recommendations while leveling, for all specs. Possibly include rotation suggestions as well. For players jumping in partway through, it should be able to detect their current talent changes and adjust accordingly, or recommend a respec if the talents are too messed up. Talents should be prioritized to make sure people pick up the most vital ones. Recommendations of glyphs would also be nice.
WoW-Pro Dungeons – Guides to dungeons. Easy access while leveling, recommended dungeons for your level and gear. Include gear lists, etc. Step by step guides, preferably with pictures, includes boss kill strategies.
WoW-Pro Gold Making – Daily quests, gathering/farming circuits, perhaps even auctioneer advice.
WoW-Pro Reputation – Reputation guides created using the addon.
WoW-Pro Holiday – Holiday guides created using the addon.
WoW-Pro Achievements – Other achievement guides.
Please give us your input! We want to make this addon the best it can be for you, our users. Please let us know what you'd like to see in the new addon!