Throne of the Tides is the Atlantis of Vashj'Ir. A stunningly beautiful instance making the most of Blizzard's all new graphics for WoW. This area is a brand new area exclusive to people with the Cataclysm expansion.
Minimum Requirements
Minimum Level: 80
Heroic Level: 85
To use the Dungeon Finder, you have to have discovered the instance first
1 Tank, 1 Healer, 3 DPS (at least 1 CC- lots of healing type mobs)

How to get there



The Lay of the LandImages from wowwiki
Loading Screen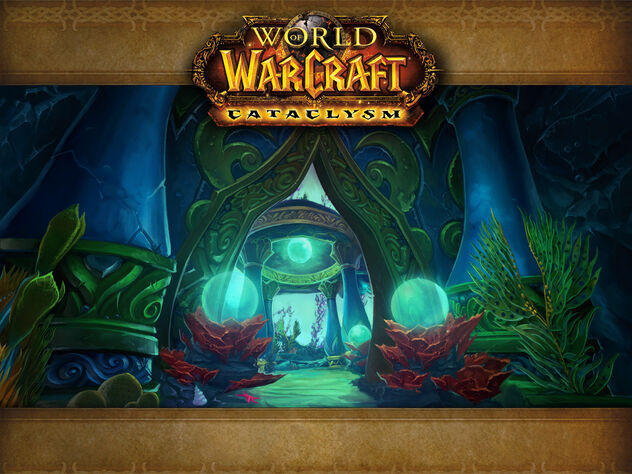 Known Quests
At this time there are three unique quests for Throne of the Tides. One is Exclusive to the Horde, another to the Alliance, and the other for both factions.
Rescue the Earthspeaker!
Rescue the Earthspeaker!

Trash Stash
Here are some of the elite residents of Throne of the Tides that will stand between your party, and the bosses.
Blight Beast
111,561hp!
Deep Murloc Druge
7,738hp
Deep Murloc Hunter
7,738hp
Deep Murloc Invader
9,297hp
Faceless Sapper
297,496hp
Abilities:
Entangling Grasp
Faceless Watcher
483,431hp
Abilities:
Ground Pound | Void Rip
Gilgoblin Hunter
30,951hp
Abilities:
Backstab | Poisoned Spear
Legionnaire Nazgrim
37,187hp
Abilities:
Friendly NPC (Suspected) Likely something to do with a quest
Naz'jar Honor Guard
247,608hp
Abilities:
Arc Slash | Enrage
Naz'Jar Invader
123,804hp
Abilities:
Bubble Shield | Lacerate
Naz'Jar Sentinel
483,431hp
Abilities:
Noxious Mire | Waterlogged
Naz'Jar Spiritmender
123,804hp
Abilities:
Healing Wave | Wrath
Naz'jar Tempest Witch
123,804hp
Abilities:
Chain Lighting | Lightning Surge
Neptulon


185,935hp (Friendly Mob)
Abilities:
Pure Water | Tidal Surge
Tainted Sentry
247,608hp
Abilities:
Swell
Unyielding Behemoth
483,431hp
Abilities:
Blight Spray | Shadow Blast
Vicious Mindlasher
185,935hp
Abilities:
Brain Spike | Shadow Bolt
Unstable Corruption
3,095hp
Abilities:
Wave of Corruption
The Bosses in Order of Appearance
Lady Naz'jar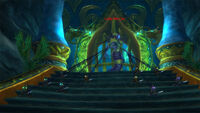 1,787,160hp
Abilities:
Fungal Spores | Geyser | Shock Blast | Waterspout
Loot:
Wrasse Handwraps | Lightning Whelk Axe
Commander Ulthok


1,116,975hp
Abilities:
Curse of Fatigue | Dark Fissure | Enrage | Squeeze
Loot:
Eagle Ray Cloak | Caridean Epaulettes| Cerith Spire Staff
Erunak Stonespeaker


1,787,160hp
Abilities:
Earth Shards | Emberstrike | Lava Bolt | Magma Splash
featuring in the same encounter with:
Mindbender Ghur'sha


670,185hp
Abilities:
Absorb Magic | Mind Fog | Enslave | Unrelenting Agony
Loot:
Anthia's Ring | Conch of Thundering Waves
Ozumat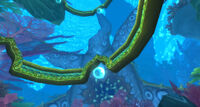 7,749,000hp
About:
This fight is a phased defensive fight. You have to ward off waves of attackers for 5 minutes until Neptulon becomes enraged and kills Ozumat (my speculation)
Loot:
At the end of the fight, there will be a cache, such as the one in Ulduar's Hodir fight. The contents of the Cache are as yet unknown, but speculation suggests it will contain a loot table of around 7 I279 Blue quality items
The boss fights do currently have strategy notes on them; but at this point this guide is merely a preview of what to expect from loot, health pools, abilities etc. Once cataclysm goes live I will revise this from a Preview to an Actual guide, and also eventually do a sister guide for the heroic encounter.
As usual I encourage any discussion and suggestions in the comment, as I will usually add them in should I deem it conducive.
As a bonus, with permission from Cynical Brit I have a Cataclysm Beta video walk-through.