As Final Fantasy fans around the world hold their breath in anticipation, the official reveal of Final Fantasy VII Rebirth at the 25th anniversary celebration in 2022 sent ripples of excitement through the gaming community. A follow-up to the hit Final Fantasy VII Remake, Rebirth offers a new adventure featuring the beloved characters we have come to know and cherish. As Cloud and his companions venture into unexplored territories following their defiance of fate in Midgar, countless unanswered questions and mysteries shroud this forthcoming chapter.
Anticipation and Speculations
Although many questions remain regarding the events that will unfold in Rebirth, its faithfulness to the original game, the appearance of its open world, and the potential handsomeness of Vincent Valentine, the tidbits of information revealed so far only serve to fuel the excitement.
As of now, Square Enix has announced a release window of Winter 2023. This comes roughly three and a half years after the first part in the Final Fantasy VII Remake trilogy. Unfortunately, with no release date yet for the final installment, fans may have to brace for an extended wait to witness the conclusion of this captivating reimagining.
Currently, Final Fantasy VII: Rebirth appears to be a PlayStation 5 exclusive. The game's timed exclusivity might allow for a PC release in the future, but Xbox users may have to curb their expectations.
A New Take on an Old Tale
Final Fantasy VII Rebirth is not a straightforward remake of the original game. Instead, it offers a parallel universe that delves deep into themes of fate and determinism. Creative director Tetsuya Nomura assures that even those unfamiliar with the original game can dive into Rebirth and enjoy its unique narrative. New players may even begin their Final Fantasy VII journey with Rebirth, offering a fresh, novel experience as Cloud and his friends embark on a new journey.
Where Will the Story Lead Us?
Fans of the franchise can expect to explore familiar locations in this new iteration, despite the narrative divergence. Kalm, the next stop northeast of Midgar, is likely to be the starting point of our heroes' adventure. However, Final Fantasy VII Rebirth will probably extend beyond Kalm, taking players through Junon, Mt. Corel, The Gold Saucer, Cosmo Canyon, Nibelheim, and Rocket Town. Notably, the inclusion of Yuffie, Vincent, and Cid to the party seems inevitable. Personally, I cannot wait to see how Vincent Valentine will look like in FF7 Remake and how his playstyle will be.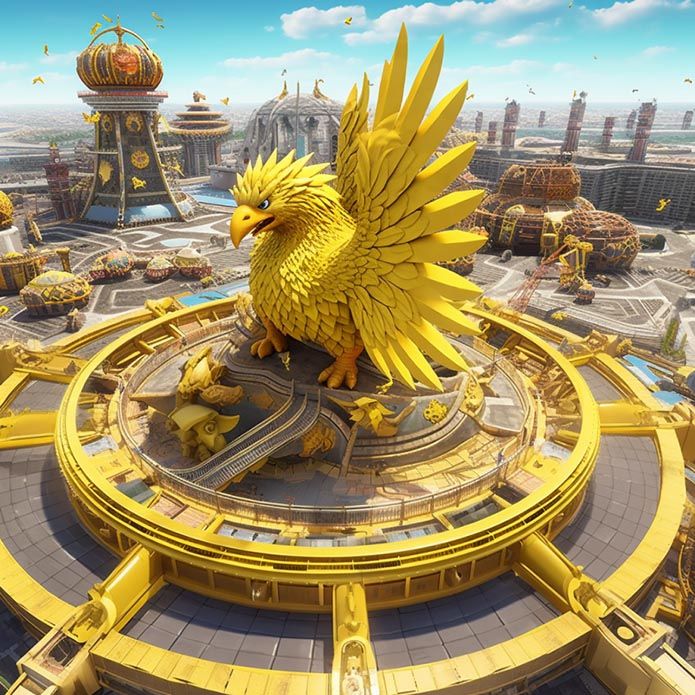 Another thing I'm 100% sure I'll spend countless hours on is the new and improved version of The Gold Saucer, with its iconic chocobo races, colisseum and many luck-based games reminding us of slot machines such as online nyerőgépek. I personally hope Cait Sith will show up early and be our tour guide to each of the Gold Saucer's attractions while we get to know him/her/it (heck, who knows what Cait Sith actually is?!)
Promises and Expectations
In the wake of Remake's deviations from the original plot, Rebirth is set to carve out its own distinct narrative path. The 'Whispers,' or phantoms that intervened whenever Remake's story strayed from the original Final Fantasy VII, may not feature in Rebirth, leading to a future that deviates even more from the established narrative.
Trailers and Development
The sole trailer of Final Fantasy VII Rebirth, unveiled during the 25th Anniversary Celebration, offers a brief yet tantalizing glimpse into what players can expect. The visually stunning trailer is a testament to Square Enix's successful utilization of PlayStation 5's enhanced hardware.
Yoshinori Kitase, the producer of the game, confirmed that the remake will be a trilogy. He noted the challenges and opportunities that arise in creating the middle installment of a trilogy, pointing to the potential for dramatic story twists and profound character exploration.
Preorders and Release Dates
Final Fantasy VII Rebirth
Developer comment number 1 pic.twitter.com/O4KdGlh4gy

— FINAL FANTASY VII (@finalfantasyvii) June 2, 2023
Although eager fans cannot preorder Final Fantasy VII Rebirth just yet, Square Enix is reportedly working to nail down a release date. In a recent Twitter interaction, Yoshinori Kitase mentioned that development is progressing smoothly. So we're still hoping for the original "Winter 2023" release, but my hunch is that FF7 Rebirth will actually release in early 2024 to avoid coliding with the FF16 release in June 2023.  It would be quite unusual for SquareEnix to release 2 major Final Fantasy titles on the same year, so January or February 2024 is most likely going to be final release date for FF7 Rebirth.
Latest comments from the developers
On June 2nd 2023, the official Final Fantasy VII twitter accounts started releasing comments from the FF7 Rebirth dev team. The latest dev comment to date was tweeted on June 5th:
Final Fantasy VII Rebirth
Developer comment number 2#FF7R pic.twitter.com/WKQkBPWWsJ

— FINAL FANTASY VII (@finalfantasyvii) June 3, 2023
According to director Naoki Hamaguchi, players will enjoy a high degree of freedom in exploring the vast and varied world of Rebirth, with countless narratives unfolding along the way. Story and scenario writer Kazushige Nojima teases that players will witness narrative developments at the heart of the FF7 story, uncovering the destiny of each character.
Motomu Toriyama, the game's co-director, affirms that new players can fully enjoy FF7 Rebirth without having played the first game. However, I have played the first game, and it is my sacred duty to tell you that FF7 Remake is an AMAZING game, worth every penny, even if you never played a Final Fantasy game before, this is probably the best one to start doing so! If you're afraid you'll feel lost or struggle, let me reassure you, you won't, especially if you follow my FF7 Remake 100% Guide! 😜
Final Fantasy VII Rebirth, much like its predecessor, promises a narrative experience that will transcend the boundaries of traditional gaming, offering players a unique and immersive foray into a world filled with intrigue, adventure, and breathtaking experiences.