Table of Content
---
This is a guide explaining how to do the achievement For The Horde! There are alot of ways to kill the leaders of the Alliance but this is what I found to be the most effective way.
I suggest getting 40 people to do this. It is not necessary though and if you can't find enough people for your raid bring along some lower level players; I'm sure they will appreciate it. Just make sure you have enough high level players to actually down the boss.
We used 2 tanks 1 Main Tank and 1 Off Tank.
Obvious you can do this with 1 tank if you want to.
I usually bring around 6 healers. Obviously, you can bring more/less healers if you want to.
If you're unsure how many tanks and healers you should bring ask your raid what they think. It won't kill you to get other people's opinions.
"One thing we do on my sever is to start the first attack when Wintergrasp starts, when a large portion of there forces are away. This makes the two most difficult, IF and SW, much easier." – Gethe.
---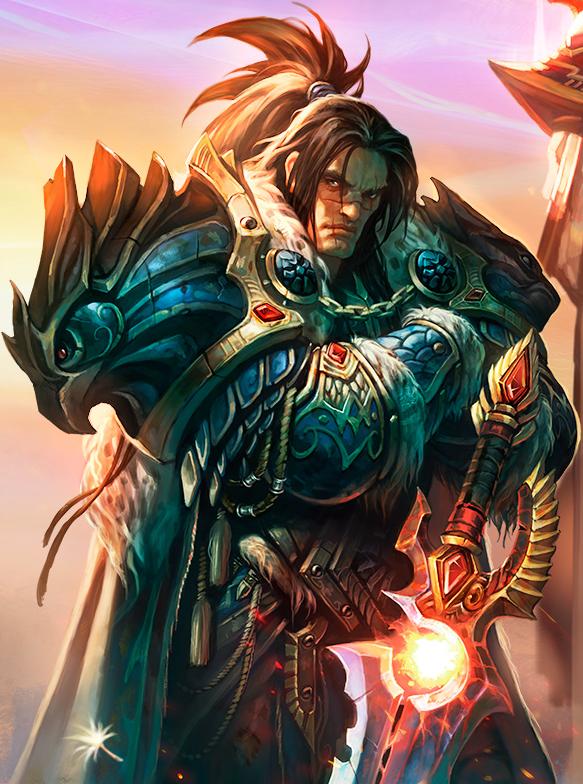 Varian Wrynn
"I am the King of Stormwind and no one, not the naga, nor the Scourge, nor the fiery lords of the Burning Legion will keep me from my people!"
Abilities:
Heroic Leap – Leap through the air and slam down on all enemies within 5 yards of the target area, causing 50% weapon damage and stunning them for 2 sec.
Whirlwind 1 – Attacks nearby enemies in a whirlwind of steel that inflicts 100% weapon damage.
Whirlwind 2 – Attacks nearby enemies in a whirlwind of steel that lasts 0 sec. and inflicts double damage.
Meet up anywhere along the black line on the border. Summon the absent raid members and buff up, explain your tactics and do a ready check to make sure no one is AFK for the storming of Stormwind City.
When everyone is buffed up and ready start running to the King of Stormwind. REMEMBER to stick together when you're running to the King.
Here is the path I think is the best.
The Fight:
A hunter and the MT will do the pull while the rest of the raid wait's further down.
Have the hunter misdirect the king to the MT and as soon as the king starts running toward the MT both the MT and the Hunter should run down to thier assigned positions.
Blue = Ranged DPS
Green = Healers
Yellow = Melee DPS
Red = Main Tank
Orange = Off Tank
After your tank has taken his position you can start DPSing. Hunters and rogues remember to keep using your misdirect and tricks of the trade as soon as they're off cooldown this will help your Main Tank with his aggro.
Your raid should look something like this when you started the DPS.
When you have killed Varian Wrynn resurrect the fallen players and make your way to the deeprun tram.
---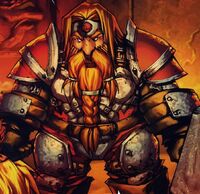 Magni Bronzebeard
"I hope that my father and brothers outlive me. I'll not make much of a king."
Abilities:
Avatar – Increases the Physical damage dealt by the caster by 50% and enhances its armor by 50% for 15 sec.
Thunderclap
Charge
Knockback
Summon Guards
Self Heal
Storm Bolt – hits for 5-6k physical damage and stuns the target for 8 secs.
Wait for everyone to arrive in Ironforge. Rebuff and get full mana/health before you exit the deep run tram.
As soon as you exit the deeprun tram you will see a couple of gnomes, one of them with fairly high hp. He should be tanked, so don't let him run around hitting people in your raid. However, he doesn't require any tactics to kill. When he's dead start making your way to Magni Bronzebeard.
The Fight:
Start with your tank running in and grabbing aggro on Magni Bronzebeard. No special positioning is required so pictures are not necessary.
There are going to be alot of adds in this fight so hunters and rogues using their tricks of the trade and misdirect on the tank(s) helps alot. It's recommended to use AoE spells on this fight if you have any.
The adds should always be next to Magni Bronzebeard so they die from the AoE.
When he's dead have a mage create a portal to Orgrimmar or Thunder Bluff, use the portal and then fly to Zoram'gar Outpost, Ashenvale.
---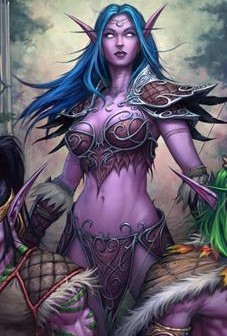 Tyrande Whisperwind
"Goddess, if this is to be the end, let us die with your name on our lips!"
Abilities:
Cleave
Moonfire
Searing Arrows
Starfall
When you have landed in Zoram'gar Outpost start running to Auberdine.
While waiting for the boat to Teldrassil summon and buff up.
When you enter Darnassus follow this path:
When you enter the temple of the moon you have to go up to the second floor to find Tyrande Whisperwind.
The Fight:
When the tank runs in and grabs aggro help using misdirect and tricks of the trade. Just a tank and spank fight. Melee should DPS from behind to avoid the Cleave.
When she's dead head back to Auberdine with the boat and jump on the other one to Azuremyst isle.
---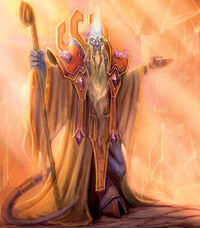 Velen
"Not all who wander are lost."
Abilities:
Holy Blast – Blasts an enemy with Holy magic, inflicting 2625 to 3375 Holy damage and knocking the enemy back.
Holy Nova – Causes an explosion of divine light, inflicting 2700 to 3300 Holy damage to nearby enemies.
Holy Smite – Smites an enemy, inflicting Holy damage.
Prayer of Healing – Invokes Holy magic to heal nearby party members.
Staff Strike – Strikes at an enemy, inflicting increased melee damage.
When you get to Azuremyst Isle summon the absent raid members and buff up.
Here is the path to Velen:
"While using the main entrance of Exodar may be more fun and exciting, I'd rather recommend using the side entrance that spirals down straight to the Vault of Lights. Left of the docks, it's marked as a cave right under Exodar." – Snief
The Fight:
Also a very easy fight, the tanks runs in and grabs aggro.
Healers should be ready to heal the melee when he does his AOE. Other than that there is not much to it.
---
Good luck with your achievement and happy gaming!.
// LT
Source:
wowwiki.com
Thottbot.com
Wowhead.com
Google.com