Guide til Deadmines
Oversetterens note: Med tanke på at alle norske spillere i stor grad vil måtte forholde seg til kjente engelske uttrykk når de spiller har jeg valgt å beholde disse i guidene, i stedet for å skape nye norske avarter som folk muligens ikke forstår like godt. Dette gjelder uttrykk som mob, instance, loot, pull, navn på klasser (rogue, warrior) etc. Det kan bli en salig miks til tider men jeg tror det blir mer lettforståelig på denne måten.
Jeg vil og understreke at denne kun er en direkte oversettelse og all ære går til Jame for å ha skrevet guiden.
Har du kommentarer så ta kontakt via msg eller i forum 🙂
Introduksjon:
Deadmines er det førstse instance du vil spille på Alliance. Det er en enkel instance, men veldig godt designet og med en enkel rute å følge og noen kjekke belønninger i forhold til level (ditt første blue item).
Anbefalt level:
Selv om meetingstone sier lvl 17-26, anbefaler jeg å være mellom 18-23. Hvis hele gruppa består av lvl 17 chars vil du antagelig ikke klare å fullføre (renske sjørøverskuta, inkludert bossene der) og for å være ærlig er det ikke noe poeng i å dra til Deadmines hvis du ikke kan det. Det eneste unntaket kan være healeren din, som uten problem kan være lvl 17, siden han kun trenger å heale gruppa og trenger ikke bekymre seg over oransje mobs. Hvis du er 26 vil mesteparten være grå, poenget med en godt gjennomført instance er gode items OG bra XP samtidig. Så den optimale gruppen for Deadmines er 18-23. Personlig har jeg fullført Deadmines med en gruppe kun bestående av lvl 19 uten problemer. Vi hadde en mage, rogue, druid, druid, paladin, ikke den beste sammensetningen men likevel mer enn nok. Hvis du følger denne guiden nøye vil du ikke ha noen problemer med å fullføre.
Quester:
[22] The Defias Brotherhood(elite) !Hovedquest! og [Kan ikke deles!]. For å få denne questen må du fullføre en rekke på 6 quester (inklusiv eskortere en dedias forræder som vil vise deg inngangen til Deadmines). Den første questen i rekken er [18]
The defias brotherhood, gitt av Gryan Stoutmantle i Sentinell Hill (Westfall) og kan skaffes når du er lvl 14.

Skaff denne questen!

Belønningen etterpå vil være verdt det (blue item).
[18] Collecting Memories (elite)
[Kan deles] Gitt av Wilder Thistlenettle, en dverg NPC i et hus i Stormwind Dwarven District.

[20] Oh, Brother… (elite)
[Kan deles] Gitt av Wilder Thistlenettle, en dverg NPC i et hus i Stormwind Dwarven District

De to siste questene er gjort utenfor selve instance'en, i gruven som leder til portalen. De fullføres begge i samme området, er enkle, og gir ganske god XP. Jeg vil vise senere i guiden hvor du skal dra for å fullføre de.

[20] Underground Assault (elite)


[Kan deles] Gitt av Shoni the Shilent, en liten gnom midt i Stormwind Dwarven District. Du bør skaffe deg denne questen, den sakker deg ikke ned, du fullfører den på vei til bossene mot slutten av instance'en.
[17] Red Silk Bandanas
(elite)[Kan ikke deles] Gitt av Scout Riell på toppen av tårnet i Sentinell Hill (Westfall). Denne questen er kun tilgjengelig etter å ha fullført eskorte-questen som leder deg til Deadmines.
Gruppesammensetning:
Du trenger minst en spesifisert healer. En hvilkensomhelst klasse med healing holder (priest druid shaman paladin), så lenge vedkommende vet at han skal heale og sparer mana til akkurat dette. Bortsett fra healer er det greit med en miks av flere klasser. Skaff en tank (Warrior, Paladin, Druidebjørn) og resten er opp til deg, prøv å ha en så balansert gruppe som mulig.
Walkthrough:
Du burde vite hvor inngangen er, side du antagelig gjort eskortequesten. Hvis ikke, your loss 🙄 . Uansett, inngangen er i et hus i en lille byen Moonbrook, sørvest i Westfall. Coords 42, 73 (om du bruker et UI som viser koordinasjoner)
1. De to første questene:
Hvis gruppa di ikke har planer om å fullføre de to første questene (Oh brother… and Collecting
memories) gå rett til avsnitt 2.
Når du går inn i huset som fører til gruven, vil minimap'en ditt slik ut: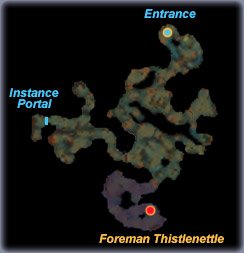 Gå mot området hvor Foreman Thistlenettle er og drep han, loot skiltet hans for å fullføre Oh,
Brother…. Fortsett og drep skjelett/zombier i dette området til alle har 4 Miner's union cards og fullfører Collecting memories. De har rimelig god droprate.
Når du har fullført disse to questene kan du dra mot instance portalen og gå gjennom den.
2. Mot Rhakh'Zor:
Fra inngangen og til du når Rhakh'Zor vil du ha en dunge gruvearbeidere å drepe. De er Non-Elite og enkle. Det er også noen få Defias Overseer, som er elite men ikke så vanskelig. Det er og en patrulje, stort sett én enkelt Defias Wizard.
Den eneste faren her (og dette gjelder gjennom hele instance'en) er "runners", altså mobs som springer når de har lite HP. Prøv alltid å pull'e, ikke spring inni en dunge mobs. Slik har du større spillerom når du får runners. Det beste er å sette en klasse til å passe på dette (rogue med crippling poision, shaman frost shock, warrior hamstring etc).
Du treffer Rhakh'Zor, din første miniboss etter en liten stund. Ikke stort å si om han, han kan pulles solo om du venter til han er langt nok fra de to vaktene (2x Defias Watchman). Han slår hardt og tregt, har masse HP som alle bosser. Burde ikke by på problemer.
Rhakh'Zor dropper omtrent alltid en hvit 2h hammer, og sjeldent en grønn øks. Ingenting å skrive hjem om så la oss fortsette:)
NB: Hver gang du dreper en boss vil døren han vokter åpne seg. En patrulje vil spawne og komme mot deg. Disse blir vanskeligere jo lengre inn i instance'en du kommer, så vær obs og sjekk bak deg nå og da.
3. Mot Sneed:
Når Rhakh'Zor dør vil døren bak han åpnes. Drep de 2 Defias Watchmen og gå gjennom døra. Veien videre deler seg i to, høyre og venstre. Mot venstre finner du Miner Johnson, han er en rare spawn, er der ca 1 av 5 ganger. Det tar kun et par minutter å se om han er der og han kan droppe et blått skjold: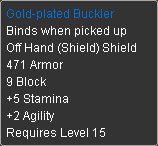 Til høyre finner du goblins og lengre nede den største, aka Sneed på en strimler. Prøv å tømme rommet for mobs i størst mulig grad før du puller Sneed, du har ikke lyst på adds i denne fight'en.
Sneed er noe vanskligere enn Rhakh'Zor fordi du må drepe han to ganger. Først strimleren han sitter i, deretter han.
Glem ikke å loote Gnoam Specklesprocket fra restene av strimleren.
[20] Underground Assault (elite) fullført!
Sneed har to regelmessige drops, et blått (25%):
og grønne cloth hansker (75% chance). +4INT +3SPI.
Så han er definitivt verdt å drepe, du hadde ikke noe valg uansett 🙄 .
4. Gilnid:
Fortsett til Gilnids rom. Når du er der, rensk rommet og vent med han til slutt. Gilnid er heller ikke vanskelig, forskjellen er bare at han har en vakt som du ikke kan pull'e solo. Du kan takle dette på flere måter: Drep vakten kjapt mens tanken er på Gilnid. Eller du kan polymorphe vakten gjennom hele fight'en om du har en mage.
Om du er heldig vil Gilnid droppe denne ringen (35%):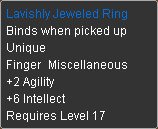 Lykke til ::wink:
Nå kommer den morsomme, dog også den vanskelige, delen.
5. Kanonen og Mr.Smite:
Fortsett og renske mobs helt til Defias Gunpowder som vist på kartet. Få noen til å loot'e det, hvem som helst, (det kan kun brukes en gang) og bruk det på kanonen rett ved. Etter at døra er skutt åpen vil Mr.Smite sende mobs mot deg, ta deg av dem. Slakt så alt du ser på brygga foran deg.
Advarsel: Dette er den vanskelige delen av Deadmines, så sørg for at gruppa holder seg samlet og ingen har det for travelt på vei mot skuta.
Gruppa må være klar over hva som skjer så snart du nærmer deg landgangen til båten. 2 Assassins kommer ut av stealth og samtidig kommer
Mr.Smite løpende mot deg.
Hemmeligheten her er at Mr.Smite ikke slår så hardt så lenge han har høy HP. Drep derfor de to vaktene mens warrior tanker han. Når begge vaktene er døde eller under kontroll (poly), fokuser på Mr.Smite. Prøv også å dra han bort fra landgangen så dere har tid til å forberede dere når han kommer tilbake fra våpenkista. Spar opp mana til slutten av fight'en, han øker DPS to ganger i løpet av fight'en og slår virkelig i fra seg på slutten.
Antagelig den vanskeligste fight'en i instance'en, men piece of cake hvis du gjør som beskrevet og healeren ikke er frossen i fingrene.
Er du heldig kan Mr.Smith droppe det beste 2H våpenet på dette stadiet i spillet (20%).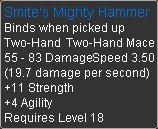 Resten er ikke verdt å nevne. Men nå er du klar for skipet og de siste tre bossene!
6. Skipet og Cookie:
Gå opp landgangen, drep noen pirater og ta til venstre. Der finner du Cookie, han er lett og kan droppe en blå wand med 22.7 DPS (30%) og den alltid like hardt ettertraktede siamesiske katten (15%, selger godt på AH). Etter Cookie er dødt kjøtt, gå tilbake og til høyre etter landgangen, til den andre siden av skipet.
Før vi fortsetter må jeg advare deg, på selve skipet er det ikke mye spillerom, det er tjukt med mobs. Pull alltid LANGT tilbake, og vær veldig forsiktig, spesielt når du når 2. etasje av trestilasene til høyre for skipet. Captain Greenskin vandrer i nærheten ved jevne mellomrom. Det kan fort skje at du får aggro på han (og to vakter) mens du er opptatt med 2-3 andre mobs, noe som sikrer deg full wipe.
Så hvis du ikke er interessert i å løpe gjennom hele instance'en igjen, ha ÉN pull'er trekke mobs mot gruppa. Når kysten er klar er det bare å gå på topp av skuta for å drepe Captain Greenskin.
7. Captain Greenskin og Edwin VanCleef:
Captain Greenskin i seg selv er ikke vanskelig, men han har to vakter. Det bør dog ikke by på problemer når du har kommet deg forbi Mr. Smite og vet hvordan du takler slike situasjoner.
Så jeg antar du slaktet Captain Greenskin og forhåpentligvis fikk denne rimelig solide staven: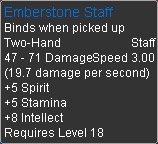 Og nå er det kun en essensiell mob igjen, Edwin VanCleef i egen person, hovedmålet ditt!
Han venter på deg i kabinen sin, angivelig helt alene, men når du får aggro vil to vakter spawne og angripe deg. Trikset her er å drepe Van Cleef først, ikke vaktene (bruk poly hvis du kan). Bruker du for lang tid på Van Cleef vil flere vakter spawne, og dreper du dem mens han lever vil han respawne dem.
Så drep han kjapt og det vil bli en enkel fight. Etter han er død, drep vaktene, loot hodet hans og du er home free.
IKKE GLEM å loot hodet, om du vil fullføre hovedquesten. Loot også Unsent Letter, som starter en questlinje for en av de neste instance'ene; The Stormwind Stockades.
Siden Van Cleef er piratenes hovedboss kan han droppe flere blå items: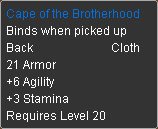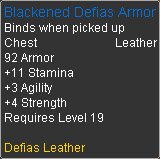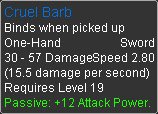 Og det fjerde er så lamt at vi bare later som jeg glemte linken.
Om du trodde det var dagens siste blå item så tok du feil. Nå er det på tide å levere inn questene. Bruk enten heartstone eller gå mot utgangen (se kart).
Hovedquesten gir deg en av følgende belønninger: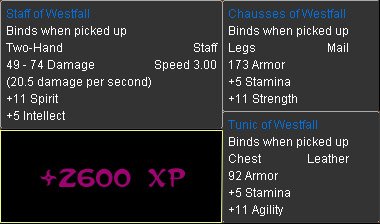 Håper du likte denne guiden til Deadmines!
-Jame
(Oversatt av Tarciryan)
© Copyrights www.wow-pro.com All rights
reserved