The World of Warcraft Recruit a Friend program offers a win-win opportunity for existing players to invite friends into the game while earning mounts, pets, game time, and other epic loot. This comprehensive guide covers everything you need to know about Recruit a Friend including how to generate a recruitment link, the tiered reward system, top rewards like the Rocket Shredder 9001 mount, tips for successful recruitment, and common questions about eligibility. Learn how to take advantage of WoW's Recruit a Friend program to build your collection, play together with friends, and help populate Azeroth with new faces. With the strategic use of Recruit a Friend, you'll unlock rare items, score free game time, and form lasting bonds with fellow adventurers.
Discovering and Connecting with Gaming Partners for Play
Finding other gamers to play World of Warcraft with is an important part of getting the most enjoyment out of the game. Here are some tips for making new gaming friends, both in-game and out-of-game:
Find Gaming Friends with GameTree – is a free LFG game app that helps to find the best gamer friends and teammates. It uses artificial intelligence and personality psychology to find players with similar interests and gaming habits.
Participate in Forums – Official WoW forums or Subreddits like r/wow. Introduce yourself.
Join an Active Guild – Getting into an active, social guild opens up opportunities to meet fellow players and find groups. Make sure to participate in guild chat and events.
Utilize the Group Finder – The in-game tool lets you search for players interested in the same content as you, like dungeons or raids. You can meet new people this way.
Connect via Social Media – Tools like Discord make it easy to find local or interest-based WoW gaming communities to join.
Attend Gaming Conventions – let you meet fellow fans in person to network and game with afterward.
Play Cross-Platform Titles Too – Bond with WoW gamers over other shared games like Overwatch and Hearthstone too.
Utilize IRL Connections – Ask real-life friends and family members if they want to start playing WoW with you.
Building bonds within the WoW community can lead to rewarding groups and friendships that enhance the entire gaming experience. With some effort put into networking both in and out of the game, you'll meet amazing gamers to team up with.
How to Recruit a Friend in WoW
Recruiting a friend in WoW is a straightforward process that can be completed in just a few steps:
Launching the Recruit A Friend System
To get started, log into World of Warcraft and open the Recruit A Friend page under the Social menu. This will bring up the system and generate a unique recruitment link.
Generating and Sharing the Recruitment Link
On the page, click the 'Generate Link' button. This will create a unique URL that can be shared with friends via email, social media, or other channels. The link is uniquely tied to the recruiting player's account.
Once a friend clicks the link and signs up for World of Warcraft using it, they will automatically be linked to the recruiter's account. This kicks off the rewards process. The recruited friend must be a new World of Warcraft account to be eligible.
Rewards of the WoW Recruit a Friend Program
The WoW Recruit a Friend program offers a variety of rewards to players for successfully bringing friends into the game and getting them to the appropriate subscription milestones. The rewards are tiered based on the number of months the recruited friend remains an active subscriber.
Reward Tiers
The Recruit a Friend program has four reward tiers:
Tier 1 – For 1 month of subscription time purchased by the recruited friend
Tier 2 – For 2 months of subscription time purchased
Tier 3 – For 3 months of subscription time purchased
Tier 4 – For 6 months of subscription time purchased
Higher tiers award the recruiter with progressively more valuable and exclusive rewards.
Highlighted Rewards
Some of the most coveted rewards include:
Rocket Shredder 9001 – Awarded at Tier 2, this unique mount has two seats allowing the recruiter and recruited friend to zoom around together.
Spirit of Eche'ro – This Tier 4 reward is a mythical Ethereal Transmorpher that transforms the player into an ethereal spirit wolf.
Renowned Explorer Title – Recruiters who make it to Tier 4 are bestowed with the prestigious "Renowned Explorer" title.
Free Game Time – Tier 1 rewards 30 days of free game time, while Tier 4 boosts that to 60 days of free time.
Tips for Successful WoW Recruitment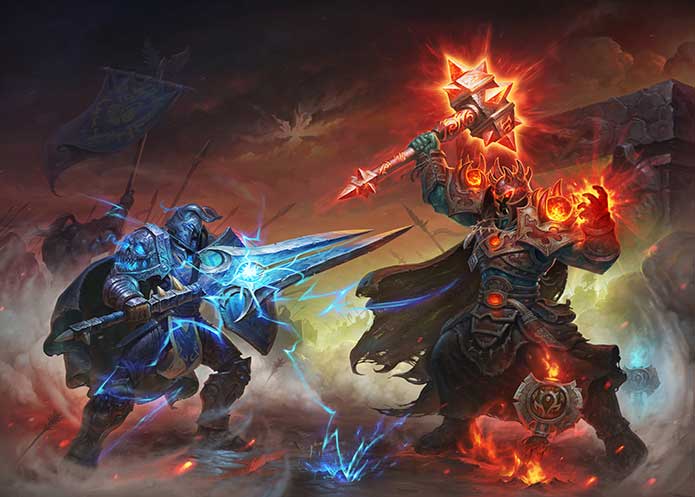 Recruiting friends to World of Warcraft can be rewarding, but takes some effort. Also, your friends will need to catch up in levels and gear to be able to play with you and pull their weight, which is why you should direct them to a good WoW Leveling Guide.
In any case, here are some tips for getting the most out of the program:
Play Together – Group up with recruited friends to complete quests, run dungeons, and experience WoW together. This keeps them engaged.
Use the Summon Feature – Once linked, players can summon each other from anywhere in the world. Use this to easily group up.
Send Gifts – Purchase gift items like pets or mounts from the in-game shop and send them to friends to excite them about playing.
Set Goals – Target unlocking specific RAF rewards like mounts or titles to motivate friends.
Offer Advice – Provide recruited players with advice, gear recommendations, and guidance to help them progress.
Bottom Line
The WoW Recruit a Friend program comes with some common questions and misconceptions. Here are answers to some of the big ones:
Who is eligible to participate? – The recruiter must have an active World of Warcraft subscription or game time to generate a recruitment link. The recruited friend must be a new player without an existing WoW account.
Are there restrictions? – RAF links can only be used by new WoW accounts in the same region and of the same edition (standard, deluxe, etc) as the recruiter's account. Each recruiter is limited to 10 recruited friends per year.
When do rewards unlock? – New tier rewards unlock only after the full subscription period is purchased by the recruited friend, not when signed up. For example, the 1-month reward unlocks after 1 month is paid.
Can existing players use it? – Unfortunately, no, the recruited friend must be entirely new to World of Warcraft without an existing account to be eligible.
Do recruited friends get rewards too? – Yes! While the main rewards go to the recruiter, recruited friends also get some in-game goodies for signing up via Recruit a Friend like free levels for characters.
The WoW Recruit a Friend program offers long-time players an opportunity to bring friends into the game while earning mounts, pets, game time, and other rewards. With an understanding of how the program works and these recruitment strategies, any player can take advantage of building their in-game collection while populating Azeroth with new adventurers.