What is it? The second part of the Final Fantasy 7 remake
When will I be able to play it? Probably at the end of the year 2022, or even in 2023
What will I be able to play it on? PS5 (and certainly PS4)
Final Fantasy 7 Remake Part 2 release date
Square Enix is currently working on the sequel of Final Fantasy 7 Remake, without having explained an upcoming release date.
The creative director of the remake, Tetsuya Nomura, said he was aiming for a "quick launch as soon as possible". However, it could still be a while before we get our hands on it.
Final Fantasy 7 Remake has been released, five years after the project was first announced. Obviously, we won't have to wait as long between parts 1 and 2, as Square Enix already has a solid engine and most of the environments and characters. According to IGN, the design of the main story and quests for Part 2 is also going smoothly.
The development of Final Fantasy 7 Remake is compared by the publisher to Final Fantasy 13 – offered in three parts, with about two years between each chapter. If Final Fantasy 7 Remake follows this process, then it will be about two years before we see this second part, which means we may not see it until 2022 or even 2023.
In the meantime, the publisher will make available three games set in the FF7 universe, including Intergrade, FF7: The First Soldier and FF7: Ever Crisis. All three will serve as transitions and would be available sometime in 2021.
News and rumors about FF7 Remake Part 2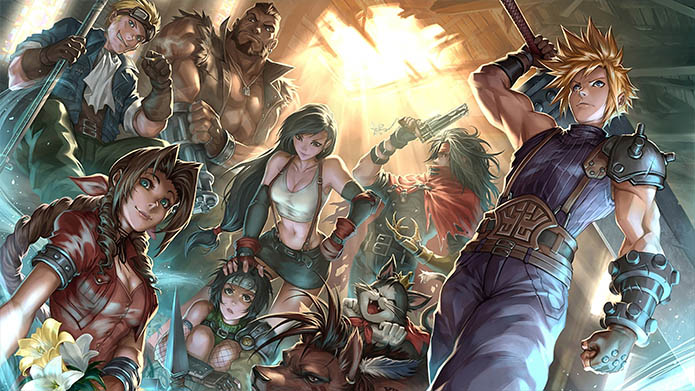 Will FF7 Remake Part 2 benefit from next-gen performance?
Final Fantasy 7 Remake fans, eager to see what the PS5 upgrade could bring, will unfortunately have to wait for Final Fantasy 7 Remake Part 2 to see how Square Enix will fully utilize the PS5's hardware features.
The news comes from an interview with Tetsuya Nomura, again for Famitsu magazine. In it, he states that the PS5's major advances, including the DualSense controller's adaptive triggers, will only be "partially supported".
As a consolation prize, Final Fantasy 7 Remake Intergrade was released on June 10th 2021 on PS5, with a set of qualitative updates such as a higher framerate and consequent graphic optimizations.
Clues to what's coming next
In an interview with Famitsu, Final Fantasy 7 Remake producer Yoshinori Kitase hinted that a lot of clues about the sequel were hidden in the first game.
"With this first game, we showed that there is great potential for the future, and we included many clues about the future of our favorite characters," Kitase says. "I'm looking forward to seeing the fan theories swarming on social networks."
A possible part 3?
While everything suggests that FF7 Remake will be a two-part game, we shouldn't forget that the original PS1 game was released on three discs. Tetsuya Nomura doesn't want to say anything about the actual length of the remake, but he doesn't rule out a trilogy – and why not a quadrilogy, provided that the success of the work is still there. More information about the future of the title should be available after the release of Part 2.
What we want to see in FF7 Remake Part 2
More playable characters
While it was a lot of fun to control Cloud, Barret, Tifa, and Aerith in the first Final Fantasy 7 Remake, there's a whole host of characters in the original that we'd love to be able to play along with. We don't know about you, but playing as Vincent, a heavily armed vampire, promises some of the most exciting gameplay around. I'm also very curious if they will change Yuffie in Part 2, because she ispretty OP in the FF7 Remake Intermission DLC. Of course, I also can't wait to see how Red XIII, Cid and Cait Sith will fit in. They've added some amazing combat mechanics to each character so far, so let's hope they build up on that. I'm also highly hopeful of being able to play Zack as a full-fledged party member, which is not impossible since Square decided to change the some parts of the story in this remake, opening all sorts of new possibilities.
New twists and turns
Given the way Final Fantasy 7 Remake ended, we expect Tetsuya Nomura to reshape the classic game into something entirely new. While some fans may want a faithful adaptation of the original game, we're more interested in seeing how the story will evolve over the next few episodes.
A new and improved Gold Saucer
If you ever played the original Final Fantasy 7, you probably spent countless hours in the Gold Saucer and you're certainly looking forward to its remake. The Gold Saucer in the original FF7 was a giant amusement park / casino in the middle of the desert, with tons of minigames, including Chocobo Races and a Battle Arena. There were 7 areas in the old Gold Saucer and we can only hope there will be at least as many in FF7 Remake Part 2.
To unlock all the rewards from the Gold Saucer, you had to take part in all those minigames to collect GPs, the official Gold Saucer currency. The majority of those minigames weren't that interesting so we can hope that they will improve these a lot in the remake. However, the Battle Arena was probably the best part. It was very challenging and allowed you to unlock some key items, such as Omnislash (a very powerful Limit Break for Cloud) and the Summon-W materia which allowed you to summon twice in a row in combat. A very powerful and desirable materia indeed.
The Chocobo Race was more frustrating however, because it was mostly luck based, you had to bet on chocobos and find the winners to earn GPs and specific rewards. If gambling is your thing, you can try your luck with The Street Fighter 2 Slot machine, the latest addition to CAPCOM's earning stream but if you're like me and like to have more control on the outcome, your best bet was to breed your own Chocobos and take part in the races yourself.
Ray tracing and next-gen visuals
With the next Final Fantasy 7 Remake coming to next-gen consoles (and hopefully PC), we'd like the game to look even better than the first installment. With ray tracing becoming more and more popular, we'd love to walk through some fantastic scenery and see it come to life in a spectacular way.
FF7 Remake Intergrade on PS5 already looks pretty amazing in 4K Resolution / 60 FPS, so we can really look forward to see what Square Enix will do with FF7 Remake Part 2.
In the meantime, I highly suggest you complete the Yuffie DLC, which is really worth your time, with a very cool story line spread over 2 long chapters and plenty of cool minibosses, but also two very difficulty new fights in the Shinra Battle Simulator. If you struggle with those, please check out my guides:
GUIDE: Yuffie & Sonon vs Top Secrets
GUIDE: Weiss – The Immaculate One
-Jame